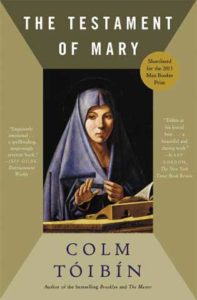 Irish author Colm Toibin was  in Paris for the opening of his play "The Testament of Mary" at the Theatre Odeon. He spoke about his play as well as his latest novel "Nora Webster" set in 1960's Ireland at the Irish Cultural Center.
Colm Toibin's "The Testament of Mary" is a daring work of fiction that addresses the crucifixion and the shaping of its legacy from the imagined perspective of Jesus' mother. Following Deborah Warner's acclaimed theatrical productions in New York and London starring Fiona Shaw, la Comedie Francaise and the Theatre de l'Odeon invited her to create a new French production with Dominique Blanc in the role of Mary (May 5-June 3, 2017).
Toibin portrays Mary as a solitary older woman seeking to understand the events that become the narrative of the New Testament. "The Testament of Mary" was first presented at the Dublin Theatre Festival in 2011. Shortly after Tóibín used his theater text as the basis for his novel. "The Los Angeles Times" described the play "a bold and subversive dramatic tour de force." Predictably "The Catholic World Report" criticized the play saying Toibin did to Mary what Dan Brown did to Jesus…
"The Testament of Mary" May 5-June 3, Theatre Odeon, Place de l'Odeon, Paris 6e.