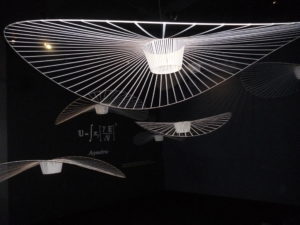 The Musée des Arts Décoratifs exhibits recent work by designer and scenographer Constance Guisset (to March 11, 2018). The exhibition titled "Actio!" Is a retrospective of this young designer's work featuring her creations over the past ten years. In addition to her design work she has made stage sets for choreographers Angelin Preljocaj and Wang Ramirez. She has also designed exhibition scenographies for Paris' Musée du Quai Branly and the Palais des Beaux-Arts in Lille.
"Actio is the Latin word for action. Guisset says "it evokes the cinematographic dimension of my work. I named each room with an action verb—turning, taking flight, freezing, etc— suggesting movements related to the objects. The exhibition is conceived as a total scenic installation, including sound and lights. Finally, "Actio!" Is also a nod to "Accio" and the spell of attraction in the Harry Potter saga… movement, illusion and sometimes magic are inherent to my creations."
Constance Guisset Design Actio!, to March 11, 2018, at the Musée des Arts Décoratifs, Paris.