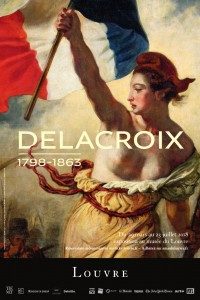 Eugène Delacroix (1798-1863) is one of France's most celebrated painters. Coming of age after the fall of Napoleon, he produced an extraordinarily vibrant body of work setting into motion a cascade of innovations that changed the course of art. His best-known painting, Liberty Leading the People—inspired by events of the July Revolution of 1830— is an unforgettable image of Parisians, having taken up arms, marching forward under the banner of the tricolor representing liberty, equality and fraternity.
The Delacroix retrospective revisits this iconic painting along with about 180 other works including notebook sketches, letters, illustrations and lithographs. It is a tribute to Delacroix's entire career from the young artist's big hits at the Salons of the 1820's to his final, lesser-known, and mysterious religious paintings and landscapes. The artist's last major Paris retrospective dates back to 1963, the centenary year of his death.
The exhibition unfolds chronologically, encompassing the rich variety of themes that preoccupied the artist during his more than four decades of work including literature, history, religion, animals and nature. It includes examples of sketches and paintings from his visit to North Africa as well as work inspired by William Shakespeare and Walter Scott. After Paris the exhibition travels to The Metropolitan Museum of Art in New York (Sept. 17, 2018-January 6, 2019).
Delacroix (1798-1863) to July 23, 2018 at the Louvre, Paris