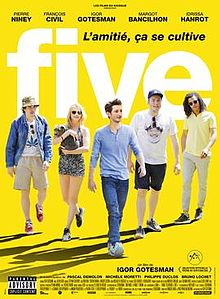 Lost in Frenchilation presents "Five" with English subtitles Friday May 20th. The film is a 2016 French comedy film, written and directed by Igor Gotsman and starring Pierre Niney. "Five" is about a group of five childhood friends who take up the opportunity to live together in an expensive Paris apartment. In order to fund the group's lifestyle, Pierre Niney's character, Samuel, becomes a drug dealer.
"The Hollywood Reporter" compared the film's humour to that of recent American comedies, calling the film "a lively and often rather funny affair, dishing out oodles of sex, drugs and hip-hop, with plenty of below-the-belt humor a l'americaine.
The screening is an English-speaking community project that begins with conversation (8pm) with friends and a film-themed cocktail (€5) at the historic Studio 28 theater. The screening is 9:15pm. Studio 28, 10 rue Tholozé, Montmartre 75018 Paris Tickets: €7.50.