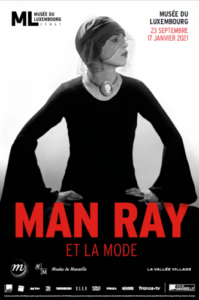 Art meets fashion this autumn at the Musée du Luxembourg with the exhibition "Man Ray et la Mode"  revisiting the influence of Man Ray's powerful experimental images and avant-garde aesthetic on fashion photography (until January 17, 2021).
Man Ray spent most of his career in Paris. Although best known for his photography he always considered himself a painter above all. In July 1921, he moved to Paris settling in the Montparnasse quarter where he met and fell in love with Kiki de Montparnasse, an artists' model and celebrated character in Paris' bohemian circles.
In 1922 he began making imaginative photographs he called "rayographs" which were initially published in a portfolio called "Les Champs délicieux," with an introduction by Dadist Tristan Tzara. The couturier Paul Poiret encouraged him to work as a fashion photographer, as magazines such as Vogue, Femina and Vanity Fair were dedicating an increasing amount of space to photography.
Despite having no experience, he quickly mastered the technique, lending an "artistic cachet" to his images. Commissions soon flooded in, and in 1933 he became a permanent contributor to the American magazine "Harper's Bazaar." Offbeat reframing, solarization and colorization were just some of his innovations revolutionizing fashion photography. Using such techniques he created remarkably experimental fashion pictures, which fit perfectly with changing concepts during the 1930's of how fashion represented the female silhouette.
About one of his photographs showing a model next to a Brancusi sculpture he said "This was to be the picture. I decided: I'd combine art and fashion."
Man Ray et la Mode, until January 17, 2021 at the Musée du Luxembourg, Paris.