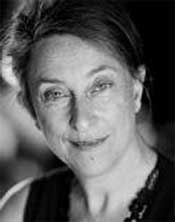 The man in the hot seat the other night in the basement of Carr's Irish pub was American playwright Roy Lisker. Seated on a stool in a vaulted, tubular chamber beneath the bar, Lisker faced an audience of 35 or so amateur theater critics who had just heard a reading of his latest work, The MIT Information Room, by a cast of professional actors.
Lisker, listening politely, was told several times that one of his key characters had not been sufficiently "fleshed out," that her startling action at the end of the play had been unexpected and was perhaps unconvincing.
Accepting the commentary with good grace, the playwright agreed that the character needed work.
Roy Lisker was thus the latest beneficiary of Moving Parts, a 15-year-old Paris-based play-reading project offering English and French authors – both budding and fully flowered – a chance to test initial public reaction to their work before they try to take it to a physical stage.
The heart, brain and soul of Moving Parts is Stephanie Campion, who has managed to marry what she terms the detail-obsessed "right side" of her brain – which helped her qualify as a Chartered Accountant in Britain –with the less fettered left side, wherein lies her passion for the theater and for acting.
The result has been Moving Parts, which since its beginnings in August 1996 has provided a forum for 171 playwrights, from Paris and elsewhere around the world. More than 300 different plays have been read by almost 600 actors.
Yet in all that time, not a single centime has changed hands.
Carr's, located on Rue du Mont Thabor just off Rue de Rivoli, offers the site,  admission to the readings is free, no hat is passed and the actors donate their time.
So does Campion, who reads the scripts, matches roles with actors, organizes rehearsals, serves as mistress of ceremonies and – most importantly – animates the post-reading exchanges between author and audience.
"That's why it works," Campion says when queried about the absence of any financing.
"It's a great place, it's a great network and it's  worldwide. If I had started charging money for this it would have folded up years ago. Every now and then an American lawyer looms up and tries to persuade me to charge money, and when they realize I'm serious they fade away again."
The idea for Moving Parts came to Campion after a Paris-based British author in August 1995 advertised in an English language publication here looking for actors to read one of his plays out loud to him.
Campion responded and so enjoyed the subsequent reading in the playwright's apartment that a year later, when the author left Paris, she started Moving Parts, which has just celebrated its 15th birthday.
Readings were initially held in private apartments around the city until Campion went looking for larger accommodation and came to Carr's in May 1999. Readings take place twice a month on Sundays at 7.30 pm. (Update: Plays are now held at 27 cité industrielle, 75011 Paris. Métro : Voltaire)
Pub owner Connell Carr says the decision to host Moving Parts "came naturally to me ."
"It was a continuation of village life that I knew when I was younger."
Carr grew up in the 1950s in the village of Kilcar, in County Donegal in Ireland, where his father owned a pub that was often used for plays and readings – a kind of community cultural center. The performances, he says,  "fitted into pub life."
Campion describes her role as the "gatekeeper," albeit one who is pointedly non-judgmental.
"I very rarely refuse a script. I don't feel it's my place to judge. What I'm best at is being an administrator. The right hand side of my brain is an accountant and the left side is an actress. And I've been successful in running Moving Parts because I've worked out how to combine the two."
Campion's playwrights are effusive about the contributions she is making to amateur theater.  Lisker talks of her "unvarying high competence … as a director…" "Whether the script is brilliant or mediocre, once she's accepted it , she gives everything she's got to the Moving Parts productions," he says, adding that she has helped him pare down the number of characters in his plays to manageable levels.
"It is a pleasure to see plays that have lain for years in a desk drawer come to life under Stephanie's direction. Of course I would wish there were a dozen or more productions a year rather than just one. But even that one bolsters my confidence in my ability to write theater." Adds Paris-based writer Gwyneth Hughes: "The greatest benefit comes from Stephanie's comments at rehearsal and from watching the actors in performance. I'm amazed each time by the degree of help these readings provide."
For Bob Stoner, founder and director of Theatre Vagatur, which produces works targeting audiences who have been victims of social exclusion, Moving Parts provides aspiring playwrights with "encouragement and exposure." "Established playwrights don't really need the encouragement. But a script can always benefit by commentary, particularly regarding cuts and overwritten passages."
Campion, a daughter of the Isle of Wight where she qualified as an accountant, came to the stage relatively late in life when she moved to England, starting with the Winchester Amateur Operatic Society.
That led to parts in London, notably Jacqueline in La Cage Aux Folles, and in Paris, where she moved 23 years ago. In Paris she points to her role as Arabella in Roleplay by Alan Ayckbourn – "a drunk and totally tactless mother, such a scandalous character and so much fun. I love to make audiences laugh."
But with the less flamboyant right side of her brain Campion currently teaches accounting principles at a business school in Paris.
"That's my rent-paying job."