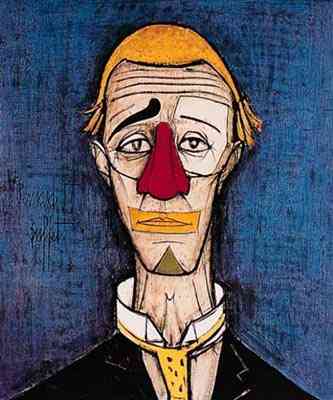 One of the most interesting artists of the French post WWII era is expressionist painter Bernard Buffet (1928-1999). He was part of the anti-abstract group "l'homme Temoin."  With meteoric success he gained fame and fortune in his early twenties. For awhile he was considered the rival of PIcasso. One magazine at the time hailed him the leading artist of his generation.
Buffet became a celebrity artist with a Rolls Royce and Chateau in the south of France. The French press couldn't get enough of him. He was Pierre Berge's lover, who eventually left him for Yves Saint Laurent. He married the writer and actress Annabel Schwob in 1958.  But when fashions and tastes changed his star faded. The French art establishment became interested in abstract art and began questioning some of his work that was so popular with the general public such as his clown series. For years his work was seldom discussed or shown in France.
But now Buffet is back with a major retrospective of his work at the Musée d'Art Moderne de la Ville de Paris (to February 26). He is also the subject of a new biography by Nicholas Foulkes: "Bernard Buffet: The Invention of the Modern Mega-Artist."  The exhibition takes a fresh look at this controversial artist while providing documentation and clips from interviews made with the artist.
Organized chronologically the retrospective opens with Buffet's early successes, when his work was triggering a new awareness of a wide range of artistic forms. It covers the early postwar years and their debate about realism, figuration and abstraction; and overall it highlights the paradox of an artist who was drawing on history painting in the context of the disappearance of the subject. The exhibition traces the trajectory of Buffet's life, which was a blend of artistic austerity and financial ease, of public success and an eventual rejection by the art world.
The Musée d'Art Moderne is the only public museum with a large Buffet collection – thanks to the substantial Girardin bequest in 1953 and the Ida and Maurice Garnier donation in 2012. Maurice Garnier (1920–2014) was the artist's long time art dealer.
Alongside his favourite subjects (self-portraits & still lifes) the exhibition presents several of the other themes he presented in his annual exhibitions at Galerie Garnier: religion (The Passion of Christ), literature (Dante's Inferno, Twenty Thousand Leagues under the Sea) and allegory (The Birds, The Mad Women). The exhibition focues on his enduring concern with history painting (the Horror of War series) and the history of painting (The Sleepers, after Courbet) and on his last, spectacular series, "Death," with its references to the memento mori of medieval times.
Bernard Buffet Retrospective, to March 5. 2017,  Musée d'Art Moderne, Paris
Photo caption: "Clown's Head, 1955" Collection fond de donation Bernard Buffet ©ADAGP, Paris, 2016