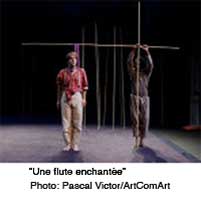 There are shows that are pure pleasure to watch, approaching their subject matter with sensitivity and insight and heightening a sense of beauty and even the sublime in their audience. "Une flûte enchantée" is certainly one of these. If high praise is familiar to Peter Brook, his latest work is particularly worthy of it.
To be fair, in this adaptation of Mozart's best loved opera, the sage of la Chapelle had a little help from the child protégé of Vienna. Still, Brook's "Flûte" creates poetry of its own by distilling a classic into an even more brilliant gem, the show clocking just 90 impressive minutes. True to himself, on the eve of taking leave of Les Bouffes du Nord, the abandoned theater he discovered in 1974 and that has become synonymous with his presence, Brook achieves breathtaking results with a minimum of props, set and fuss, his only concession to form being a series of graceful, elongated poles which actors William Nadylam and Abdou Oulolguem creatively manipulate to evoke castle walls, forests and obstacles along the characters' paths to truth.
A young, multicultural troupe alternates in the singing roles with piano for sole accompaniment and at arm's length from the front row of spectators. Equally authentic and intense, their performances come as so many more revelations to an opera that has already seen more than its fair share of interpretations.
Of those of recent memory at least, Brook's is already the standard by which future shows must be measured, where imagination and innocence get the upper hand on Mozart's philosophical-religious musings and Masonic references. The Paris run is sold out, but a trip to Caen or Amiens to catch it wouldn't be a bad way to start the new year, in a state of musical grace.
To Dec. 31, Tues-Fri, 9 pm. Sat, 3:30 pm, 9 pm, (no show Dec. 25), Théâtre des Bouffes du Nord, 37 bis bd de la Chapelle, 10e, Mº La Chapelle, 11 euros-22 euros, tel: 01.46.07.34.50, www.festival-automne.com
More theater at: //www.paris-theater.blogspot.com