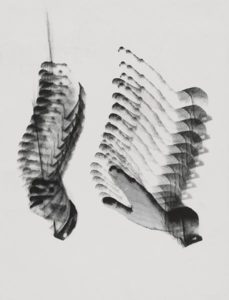 "Photographisme" is an exhibition at The Pompidou Center featuring graphic experiments by three post-war photographers: Klein, Ifert and Zamecznik (to January 29, 2018).  The lessons of the Bauhaus were taken up by a generation of innovative practitioners, figures as different as Gérard Ifert (Basel, b. 1929), William Klein (New York, b. 1928) and Wojciech Zamecznik (Warsaw, 1923–67) who developed new, "photo-graphic" forms of expression in the 1950s and '60s.
Though they worked for the most part in different fields, they operated in very similar cultural contexts, influenced not only by the legacy of the Bauhaus but also by concrete art and such contemporary developments as gestural abstraction and kinetic art. All three sought to capture the sense of dynamism of the post-war period. The exhibition includes photograms, light drawings and movement studies, many of which were used in advertising, posters, book and record covers.
"Photographisme," to January 29, 2018, Pompidou Center. Paris. Free admission.