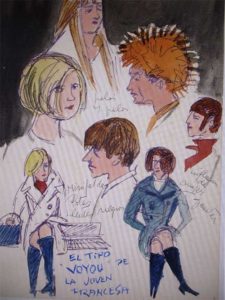 Ecuadorean artist Eduardo Solå Franco made sixteen autobiographical watercolor sketchbooks between 1935 and 1988. These books documenting everything that interested the artist —people, places, parties, shows, fashion— were recently donated to Paris' Francois Mitterrand BNF library and are exhibited there with an exhibition titled "My Book of Pleasure" until May 17, 2017.
The multi talented Sola Franco (1915-1996) was a painter, dramatist, illustrator, set designer, filmmaker and amateur dancer.  He studied ballet with Robert Joffrey of the New York City Ballet. He later became the artistic director for the company. He even choreographed his own ballet "El Minotaurot" staged in LIma in the mid fifties.
Solå Franco's sketchbooks— created over fifty years—are poetic visual diaries giving a glimpse into the "good  life" of a truly remarkable (but not well known) artist.
Eduardo Solå Franco, "Le Journal de mes plaisirs" (1935-1988) to May 17, 2017. BNF Francois Mitterrand.