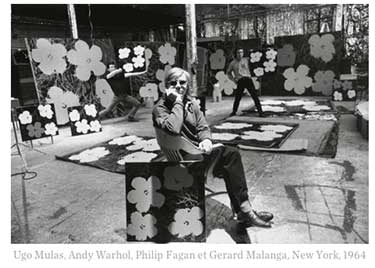 The Fondation Henri Cartier Bresson hosts an exhibition of work by Italian photographer Ugo Mulas (1928-1973) noted for his portraits of artists and street photography. The exhibition "La Photographie," corresponds with a new book— a French translation of his classic oeuvre—featuring Mulas' photos of the 60-70's art scene along with his thoughts about the nature of the medium itself (to April 24, 2016).
Ugo Mulas, although not well known outside the photo cognoscenti, was a major figure of twentieth century Italian photography. He worked for a number of Italian magazines and did commercial work for advertising campaigns including clients such as Pirelli and Olivetti. While covering the Spoleto Festival in 1962 he befriended sculptor Alexander Calder, who later became a major subject of Mulas' photography and writing.
Mulas photographed Andy Warhol, Robert Rauschenberg, Jasper Johns, Roy Lichtenstein and many other artists while documenting the Pop Art scene. This exhibition brings together most of the photographs selected by Mulas for publication in his legendary book "La Fotografia" where he analyzed art, artists and photography. Way ahead of his time, about what is worthy of being photographed he said "all moments are fleeting, they are all worthy, and the least significant moment can be in fact the most exceptional."
The photos in the exhibition feel "honest." They are both documents and autobiographical. We sense that the photographer sincerely enjoyed the moments he photographed. In addition to photos of artists the exhibition includes his more abstract "Verifications" photos where he contemplates the essence of the medium. These photographs were included a couple of months ago in the Pompidou Center's exhibition "What is Photography."
Ugo Mulas, "La Photographie" until April 24, 2016,  Fondation Henri Cartier Bresson, 2, impasse Lebouis, 75014.