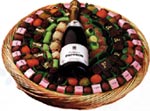 Fauchon's "Mombasa" Christmas hamper
Cityscan
by Georgina Oliver

Happy Century !! *****
Enter 2000. Y2K or no Y2K... As of millennium night, the whole planet hits "fresh start" mode. Somewhere in France, some champagne-sipping bon vivant has been programmed from birth to be the first to say "bon siècle!"

Upbeat Gifts
At the turn of the previous century, an orange was considered a Christmas treat. Now, the sky's the limit. What would you like in your stocking? A Mercedes Benz? Or, just a steel and gold fountain pen designed by Porsche (Faber-Castell, 850F)? Place de la Madeleine épicerie fine Fauchon proposes wickedly tempting champagne and foie gras-filled holiday hampers named after exotic Century's Eve dream spots such as Capri (3,500F) and Bangalor (9,500F).
As the curtain falls on 1999, media coverage of human misery has never been so explicit, yet luxury is making a huge comeback. The marketing pitch? It's okay to think de luxe as long as the objects of your desire exude excellence of craftsmanship and unbridled creativity. No need to have a bad conscience because you can't resist the sequined version of Jean Paul Gaultier's signature sailor shirt (8,500F), a one-shot specially produced for Le Bon Marché's "Editions Privées" collection... Even rap-and-Rollex ostentation is fine, as an expression of urban attitude.
Anyway, "all that glitters..." ain't necessarily gold. At the La Samaritaine department store everything from scrumptious pre-creased silk scarves (525F) to a cheap-but-chic computer mouse (195F) comes with a shiny, futuristic finish
Part of luxury's rehabilitation process? Many upmarket brands support humanitarian causes. The prestigious LVMH empire — which recently inaugurated a corporate building in Manhattan — has backed a number of hospital research projects since 1990. Among others: the Claude Pompidou Foundation, assisted in creating a center for Alzeimer's sufferers .
This year's Nobel Peace prize went to two "French doctors," one of whom — Jean-Christophe Rufin — won a coveted prix littéraire for a novel titled "Les causes perdues." So, dinner conversations concerning the future of humanitarian organizations, along the lines of Médecins Sans Frontières, are de rigueur.

Cool clothing labels have also started to develop strategies with a humanitarian edge. The Morgan boutique chain has enlisted the help of Adriana Karembeu — the top model wife of a member of France's winning World Cup soccer team — to represent its campaign in aid of the Red Cross' anti-personnel mines effort. In Morgan's "Love Emergency" ads, a photograph by Antonio Spinozza pictures Adriana wearing a white t-shirt stamped with a red cross. Short-sleeved option: 100F. Long-sleeved alternative: 125F. Order info: 01.43.11.40.60.
At the helm of Japanese beauty leader Shiseido's research & development operation, Dr Kumano is on a millennium mission to de-stress the planet. His formula? Smell good, feel good... Part of a range of cosmetics and treatments meant to liberate our brains' naturally-tranquilizing endorphins, the Relaxing Fragrance line evokes rosehip tea. (Shiseido, Salons du Palais Royal, 142, galerie de Valois, 1er, tel: 01.49.27.09.09.)
Endorphins sound great. But, there are a lot of adrenalin freaks out there, for whom entering a new century is more like a once-in-a-lifetime buzz. A collective bungy jump... The best place to try that? At the Viaduc de la Souleuvre, Hackett's Normandy-based site de saut à l'élastique, which fêtes its 10th anniversary next summer. (Reservations: 02.31.66.31.66.)
Titled "En route vers l'an 2000," alternative tour operator Voyages 4A's winter catalog is packed with offbeat millennium destinations. For art lovers, there's Barcelona sur les traces de Dali. For Green travelers, an interactive éco-trip to Brazil. For hard rock hardliners, a 3-day millennium party hosted by a small town in former East Germany, named... Wacken. But, dance and DJ addicts will zero in on Zurich's "Energy Millenium." (Bookings: 03.83.37.65.99.)
Niched on the first floor of Au Bon Marché — opposite Yohji Yamamoto's stand — 33-1 R-LAX is already plugged into tomorrow. Run by Ramdane Touhami, 24 and 28-year-old Alexandre Thumerelle, this minute concept space tells you what to read (Dazed & Confused, Wallpaper, CitizenK, Sleazenation...), what to listen to (from Ben Harper to zee French Touch) and what to wear (Kulte France or Hysteric Glamour t-shirts, with Ruvenfeder jeans equipped with nifty pockets, so clubbers needn't worry about credit cards and keys when dancing.
Where to dance the century away? At a non-stop 36-hour DJ jamboree organized by the Wake up! nightclubbin' outfit (tel: 01.42.71.43.43) at l'Enfer, 34, rue du Départ, 14e. Dubbed "House of Legend," the first part starts on December 31 at 10pm. Then, follows an Ibiza-inspired "after" session named "Space," which begins at 8am on Saturday, January 1, 2000... and continues throughout the day, before signing off with "Cafe con Leche," a fantabulous 10pm-to-8am Saturday-through-Sunday finale.


Where to party?
At OPA, Offre Publique d'Ambiance. Open daily from breakfast to 2am, this brand new Bastille bar boasts three levels: a dancefloor with a giant screen, a restaurant and, last but not least, a VIP enclave. (9, rue Biscornet, 12e, tel: 01.49.28.97.16.)
Heard of Winney? Probably not. Winney, not Winnie the Pooh... is the subject of a "Winney Jubilee" to be seen at the Colette concept store, from Dec 6-31. Featuring the kind of objects usually associated with merchandising, this fun millennium presentation consecrates a "fictitious" animated character, giving him an equally "fictitious" 1920s to the presentday cartoon anthology. In real life, Hollywood electro-pop band Sparks wrote the soundtrack of a film billing him as "A Cute Candidate." Now, he exists. (213, rue St-Honoré, 1er, 01.55.35.33.90.)
A new millennium requires a change of lifestyle. Mobility of spirit... Aptly called Mobilité, a cosy showroom/gallery near M° Voltaire targets weekend browsers with a taste for teak from Indonesia and China. Open on Saturdays from 10am to 8pm, it exhibits furniture from the firms mail order catalog. A key feature? Folding chairs and extendable tables, suitable for small, city apartments. Among Mobilité's customer services: made-to-measure based on your own designs, nationwide transport and — another par correspondance exclusive... A fine selection of tea. (15, rue Camille Desmoulins, 11e, tel: 01.40.18.14.60.)
Imagine... You're surfing on "Hippy Chic." A fashion site. Your cursor lights on a listing titled "The Precursors." Click on it... There's no way the Renoma label won't be mentioned. Back in the '60s and '70s, Renoma contrasted sharp velvet jackets and satin shirts with funky gear, foreseeing a form of elegance that's bang on, right now. Till January 16, a timely retrospective focuses on Maurice Renoma's 40-year career, finishing with a series of experimental photographs: his latest passion. (Centre Culturel, 22, rue de la Belle-Feuille, 92100 Boulogne-Billancourt, tel: 01.55.18.45.65.)