Parisvoice, the magazine for English-speaking Parisians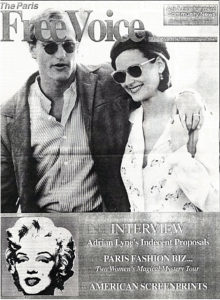 The "Parisvoice" began publishing in 1979 as a free weekly newspaper inspired by such alternative papers as the "Chicago Reader" and "Village Voice."  Originally called "Paris Free Voice" it was the first free circulation publication of its kind in Paris. In the early days it collaborated with the American Church on Quai d'Orsay sponsoring jazz concerts, poetry readings, art festivals, flea markets and a host of other community events.
During the late 80's it evolved into a monthly magazine writing on Paris' cultural scene while focusing on the city's English-speaking community. Today its archive is a record of the city's anglophone expat life during those years. For the magazine's tenth anniversary David Applefield reflected on the magazine's quixotic beginnings with a birthday editorial.
In the 90's with a staff of talented writers the magazine proudly boasted 48 full color pages publishing 50,000 copies a month. A collaboration with the French magazine "Nouvel Obs" saw the magazine distributed in France nationwide. Although still freely distributed it dropped the word "free" from its logo to a more web-friendly "Parisvoice." With the new millenium the magazine moved to rue Papillon in the fashionably bohemian 9th arrondissement. Articles and interviews featured leading artists, writers and filmmakers such as: Edmund White, Woody Allen, Henri Cartier Bresson, Caroyln Carlson, Joan Baez, William Klein, Robert Altman, Steve Buscemi, Peter Brook, Anthony Burgess, Doris Lessing, Pierre Salinger…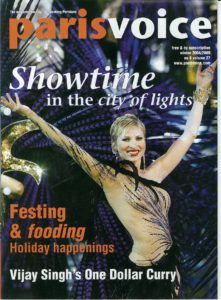 The magazine began publishing online in the late 90's. Check out some vintage 90's web pages at our web "museum" archives. The print magazine and the website were both published simultaneously until 2007. Today Parisvoice is exclusively an online publication. It continues its mission of being "the magazine for English-speaking Parisians."  But now those "Parisians" live not just in Paris but all around the world… apropos long before the internet Hemingway said Paris is a moveable feast!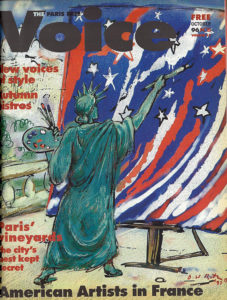 Click to read Applefield's "Ten Years After" anniversary article.
See voice web pages "museum" 98-2004.