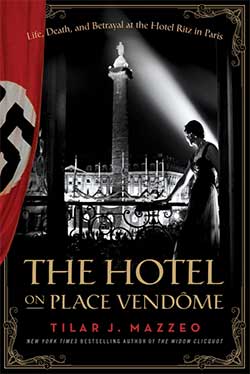 The subtitle "Life, Death and Betrayal at the Hotel Ritz in Paris" sets the tone for Tilar Mazzeo's new book, "The Hôtel on Place Vendôme." Written in a breezy, gossipy style this book is a fun read. Her previous books include "The Widow Clicquot" and "The Secret of Chanel No. 5." Set against the backdrop of the Nazi occupation of World War II, the book is the captivating history of Paris's world-famous Hôtel Ritz—a tale of glamour, opulence, and celebrity; dangerous liaisons, espionage and resistance
When France fell to the Germans in June 1940, the legendary Hôtel Ritz on the Place Vendôme—an icon of Paris frequented by film stars and celebrity writers, American heiresses and risqué flappers, playboys, and princes—was the only luxury hotel of its kind allowed in the occupied city by order of Adolf Hitler.
Tilar J. Mazzeo traces the history of this cultural landmark from its opening in fin de siècle Paris.  "The Hotel on Place Vendôme" is an extraordinary chronicle of life at the Ritz during wartime, when the Hôtel was simultaneously headquarters to the highest-ranking German officers, such as Reichsmarshal Hermann Göring, and home to exclusive patrons, including Coco Chanel. Mazzeo takes us into the grand palace's suites, bars, dining rooms, and wine cellars, revealing a hotbed of illicit affairs and deadly intrigue, as well as stunning acts of defiance and treachery.