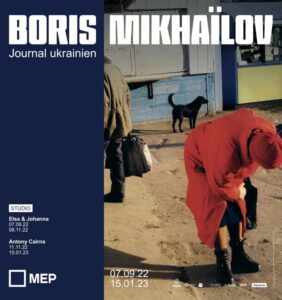 "Ukrainian Diary" is Boris Mikhialov's huge photography retrospective with more than 800 images occupying two floors at Paris' Maison Européenne de la Photographie (to January 15, 2023). The exhibition —delayed in 2020 due to the pandemic— revisits Mikhailov's photographic projects starting in the 1960's continuing to his most recent work.
Mikhailov (born 1938, Kharkiv) was first introduced to Americans with his "Case History" series exhibited at the Museum of Modern Art in 2011. His photography —somewhere between personal diary and performance art— is both challenging and provocative. While inventing his own distinct artistic language in series that vary enormously in terms of technique, format and approach, he provides a unique perspective on Ukraine society during the last fifty years.
Concurrent to his MEP exhibition, Mikhailov's "At Dusk" series (with 110 photographs) is exhibited by the Pinault Collection at the Paris Bourse de Commerce Salon (to January 16, 2023).