A new book by veteran Paris reporter Ruby Boukabou — "The Art Lover's Guide to Paris" — is a wonderful companion for a trip to Paris whether or not you are familiar with the city's amazing art offerings.
Opening with an overview of French art, the guide features a vast selection of museums and galleries then continues with chapters including photography, architecture, art in public places, street art and art-themed day trips to chateaux and private collections.
With illustrations, interviews, photographs and some maps, "The Art Lover's Guide to Paris" (White Owl) is packed with useful information such as museums with kids activities and where to see free art as well as some tips on where to hobnob with Paris' burgeoning art talent. An art diary with dates for the city's major contemporary art and photography festivals is useful for planning a trip to Paris.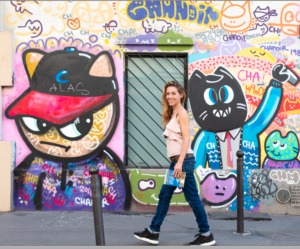 The hands-on sections are brilliant with tips on buying art, how to attend a Paris art auction and even where to take a sketching class. Of particular note is a fascinating three part self-guided walking tour of Montmartre.
There's no way you'll have time to visit everything in the book even if living in Paris, which will give you an excuse to stay longer or plan another trip (if you needed one!). For those who can't quite make it to Paris physically, the book provides a lovely vicarious Parisian escape.
"The Art Lover's Guide to Paris" is available in Paris bookstores including Abbey Bookshop, Shakespeare& Co., W.H.Smith and The Red Wheelbarrow and is available on Amazon in hardback and kindle.