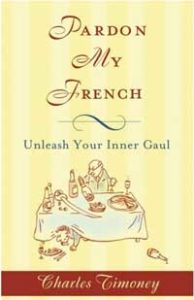 Unleash your inner Gaul with this book which is both hilarious and helpful. "Pardon My French" is an entertaining and useful guide to the words and phrases every Francophile, traveler, student, and word maven should know, with fascinating lore and tidbits that make sense of the Gallic mind-set.
Englishman Charles Timoney was thrown into French life headfirst twenty-five years ago when he and his wife moved to France. He had studied French in school, but his memory of vocabulary lists and verb-conjugation drills proved no match for day-to-day living and communicating with French coworkers. As he blundered towards fluency, he collected the idioms and phrases that no one ever taught him in a classroom and that wonderfully (sometimes wickedly) epitomized l'esprit francais. Pardon My French includes insider's language tips for dining, shopping, understanding French slang, and more.
Packed throughout with whimsical cartoons and trivia (including the words to "La Marseillaise"), "Pardon My French" is a marvelous armchair trip to France.