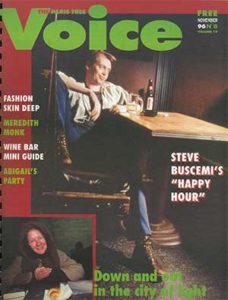 The cushy bar of the Hotel Manchester on rue de la Paix has nothing in common with the Trees Lounge, the eponymous watering hole of actor Steve Buscemi's directing debut, renamed "Happy Hour" for its French release (Oct 16). But this far posher locale is where I spent a happy half-hour speaking with the 38-year-old thesp about his leisurely, enjoyable ode to the drawbacks and vicissitudes of being 30-something and aimless in suburbia.
"Trees Lounge," which Buscemi also wrote and starred in, is a character-driven slice of life set in Valley Stream, Long Island, a New York suburb so sleepy they probably don't have a word for "insomnia." Tommy (Buscemi) is an unemployed garage mechanic with a drinking problem who owns a car that's unclear on the concept "start." He and his brother Ray (played by Buscemi's real-life brother Michael) don't get along. There's Tommy's pregnant ex-girlfriend, Theresa (Elizabeth Bracco), and his unsolicited 17-year-old assistant, Debbie (Chloe Sevigny of "Kids"), who helps him on his ice cream truck route once his uncle Al (Seymour Cassel) succumbs to a surprisingly droll heart attack.
"I've acted in lots of low-budget movies and there's always the pressure to be economical and cover the day's work," says Buscemi. "That urgency actually helps me stay focused as an actor. But until I was in the director's shoes, I'd never really realized just how much energy goes into 'making' the day. As a director it didn't focus me – it made me nervous. Because if you fall behind, you can be replaced – or you have to start cutting scenes."
By going with the flow – when not leaning on his family-style cast of indie staples including Carol Kane, Eszter Balint, Debi Mazar and Cassel – Buscemi managed to avoid the "Sophie's Choice"-style dilemma of having to decide which beloved sequence had to go. The result is casual yet profound, bittersweet and funny. Buscemi, a versatile fellow who excels at playing whiners, weasels and put-upon criminals, is a fine contemporary example of a dying breed: the character actor. With his slight build, prominent eyes, skew-toothed smile and New Yorky demeanor, one can imagine Buscemi doing duty for Ernst Lubitsch or waltzing through a vintage Marx Bros. movie.
Although the stage-trained Buscemi's first movie role was as a musician with AIDS in Bill Sherwood's 1986 "Parting Glances," you may know him as "Mr. Pink" in "Reservoir Dogs," the more level-headed of the two contract killers in "Fargo" or the long-suffering low-budget director in "Living in Oblivion."
Buscemi says he was enormously influenced by the films of John Cassavetes and also admires Robert Altman, with whom he worked in "Kansas City." Of course, it's next to impossible to imagine the American film landscape without the likes of Quentin Tarantino or the Coen Brothers, with whom Buscemi has worked extensively. Does he ever think to himself, "Gee, I could just as easily never have met these guys and had a completely different career?"
"I was  looking for work and they were willing to hire me," Buscemi explains. "An actor would have to be crazy or stupid to read one of their scripts and say 'Nah, I don't think I want to be in this movie.'"
Buscemi, who came to Paris with his wife, filmmaker Jo Andres, and their 5-year-old son, belongs to the ranks of otherwise virile actors who have donned women's attire onscreen, in this case for Alexandre Rockwell's "Somebody to Love," in which he plays a transvestite taxi dancer. "That role was a lot of fun," says Buscemi. "For one thing, I found out I'm really good in heels. It was the first time I ever liked my legs. And I gotta admit, I've got a pretty nice ass." Rather than get in touch with his feminine side, "I tapped into the part of myself I hadn't felt since I was a little kid. That total lack of inhibition that kids have. I see it in my own son. They're fearless until they start getting pressure about how a man does and doesn't behave."
In addition to his performance in "Trees Lounge," starting November 13 Buscemi can also be seen as well-connected info hustler "Map-to-the-Stars Eddie" in "John Carpenter's Escape from L.A." His next acting gig is in a Hollywood superproduction, "Con Air" – a film in need of a title modification for French-lingo countries if ever there was one.
The title refers to special charter flights used to transport federal prisoners under guard. "The prisoners take over the plane," Steve explains. "John Malkovich is the brains of the outfit. I'm a serial killer who's not part of the plan." Would this be a high concept movie, by any chance? "Nah," says Buscemi in used car salesman mode. "Not on your life."
One last thing. "What is the correct pronunciation of your last name?" I inquire. "I say Boo-sehm-ee," says Buscemi. "Although some people say Boo-SHEM-ee – which I like. I've never corrected people who say Boo-shem-ee so that's why there's the confusion."
In a world where "Trees Lounge" becomes "Happy Hour" and "Con Air" is up for grabs, it's comforting to just call Buscemi "Steve."