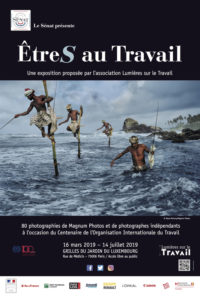 Around the working world in 80 photos is an exhibition titled "EtreS au Travail" (Beings at Work) displayed on the Luxembourg Garden fence along rue Médicis (until July 14, 2019). Large color photos mostly taken by Magnum photographers such as Steve McCurry, Marc Riboud and Martin Parr are accompanied by thought provoking captions written by labor specialists. The exhibition celebrates the centenary of the International Labor Organization (ILO).
The ILO was founded in 1919 in the wake of WWI with the aim of promoting workers rights and social justice. With hyper-globalization, robotic automation and digitization of the economy, the work world has changed more in recent years than at any time during the ILO's 100 years of existence. The exhibition invites the question: What will work be like in another 100 years?
"EtreS au Travail" (Beings at Work), to July 14, 2019. Free admission.