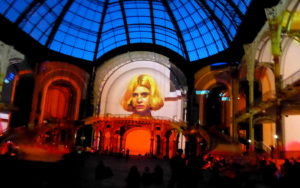 Paris' Grand Palais hosts a monumental immersive cinematic installation "Unidentified Plastic Object" featuring Wim Wenders' film clips accompanied by music chosen by the German filmmaker especially for the event such as Ry Cooder's unforgettable haunting slide guitar in "Paris Texas" and music from "Buena Vista Social Club." Every evening 9PM to midnight (until April 22nd). Free admission.
Wenders' installation incorporates several multi ultra high definition loop projections across approximately 270 degrees of the grandiose architecture of the Grand Palais Nave creating an immersive cinematographic kaleidoscope experience… as physical as it is aesthetic and emotional.
Neither a work of video art nor an artist's film, this cinematographic visual creation is an original and spectacular artistic object – in the sense that Henri Langlois spoke of cinema, as a plastic art and not a dramatic art." For the installation Wenders has created a dream-like montage using clips from several of his films such as "Alice in the Cities," "Wings of Desire" and "Paris Texas" freeing them from their original narratives encouraging viewers to experience the images in an entirely new way.