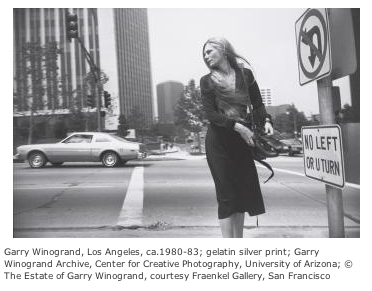 Paris' Jeu de Paume is presenting a traveling retrospective of legendary American photographer Garry Winogrand (1928-1984) who chronicled America in the post war years. The first retrospective curated by John Szarkowsk took place in 1988 at the New York MOMA.
For the photo cognescenti Winogrand is considered one of the most influential photographers of the late 20th century and a master comparable to Walker Evans, Robert Frank and William Klein.  His brand of black and white "quick takes" marked an entire generation of street photographer wannabes.
This exhibition was jointly organized by the San Francisco MOMA and the National Gallery of Art in Washington. Before coming to Paris it traveled to the Metropolitan Museum of Art in New York. After Paris the exhibition winds up at the Fundación MAPFRE in Madrid.
Winogrand famously said "I photograph to see what the world looks like in Photographs." He unquestionably took a lot of pictures. Many of which in his later years he didn't even see. When he died suddenly at age 56, Winogrand left behind approximately 6,500 rolls of film —some 250,000 frames— that he had never seen, as well as proof sheets from earlier years that he had marked but never printed.
About half of the photos in this exhibition have never been exhibited or published until now and over 100 have never before been printed. The exhibition features these archival discoveries alongside some of his most iconic images.
Some question whether pictures never seen and edited by the photographer should be exhibited. Would Winogrand have chosen many of the photos for this exhibition? John Szarkowski who curated the 1988 MOMA Winogrand retrospective felt that the photographer's later work was not up to the level of those taken in the 60's and early 70's. He said; "It seems to me that at the end Winogrand was a creative impulse out of control, and on some days a habit without an impulse, one who continued to work, after a fashion like an overheated engine that will not stop even after the key has been turned off."
Others including the curators of the present retrospective disagree feeling that it is time to revisit Winogrand for a second look and judge the pictures on their on merits.  It's organized in three parts starting with "Down from the Bronx," which presents photographs made in New York City from 1950 through 1971. "A Student of America" presents work from the same period mostly from outside New York' and "Boom and Bust" featuring his later photographs, largely from Texas and Los Angeles.
"There exists in photography no other body of work of comparable size or quality that is so editorially unresolved," says Leo Rubinfien guest curator for the exhibition. Rubinfien was among the youngest of Winogrand's circle of friends in the 1970s. "This exhibition represents the first effort to comprehensively examine Winogrand's unfinished work…"