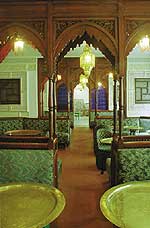 Although Paris is known for its cafés it also has many cosy and elegant tearooms where you can pass an afternoon enjoying fine-quality tea with delicious cakes and pastries. While many people know about the city's most famous tearooms such as the "Mariage Frères" and "Angelina's," there are also plenty of excellent lesser-known tearooms worth a visit.  Here are some of our favorites:
L'Oisivethé
L'Oisivethé is a cute knitting-themed tearoom and yarn shop in the heart of the "Buttes aux Cailles." The tearoom is quaintly decorated with all manner of yarns, as well as knitting-based kits, books and accessories, which are all for sale. L'Oisivethé (the name plays on the French words for both idleness and tea) proposes an overwhelming choice of gourmet "Løv Organic" teas – of which the "Løv Zen Rooibus" blend is definitely worth trying – American-style cakes and desserts, a light lunch menu with vegetarian options, and brunch on the weekends from 11am to 4pm. The tearoom also holds weekly knitting and crocheting workshops on Wednesdays from 7pm. 1, rue Jean-Marie-Jego, 75013, Metro Corvisart, http://www.loisivethe.com, closed on Mondays. The price: A pot of tea and a cake costs around €7.50.
Merci
Located in the trendy Oberkampf district, Merci is a lot more than a simple "salon de thé." It is also a charity store which is run by the founders of the luxury Bonpoint brand. It is not at all like a traditional charity store, but more like a large and stylish concept boutique. It's a huge and eclectically decorated loft-style space set over 3 floors, where you can shop for both new and vintage clothing, trendy home-wares, perfume or even flowers from the on-site florist. One of the best things about Merci though is its cosy in-house tearoom, called the "Used Book Café," where you can sink into a couch with a pot of tea and a cake while flicking through a secondhand book. You might pay a little bit more for a cup of tea here, but it's all for a good cause. Profits are donated to a charity for disadvantaged children. 111, boulevard Beaumarchais, 75003, Metro Saint Sébastien-Froissart, http://www.merci-merci.com, closed on Sundays. The price: A cup of tea costs around €5.00 and cakes start from around €6.00.
La Fourmi Ailée
Just a few minutes' walk from Notre Dame, this is the place to come if you want to relax after a day's sight-seeing in the Latin Quarter. Popular with the locals, it is a converted former library with a beautiful old-world decor. It is more of a restaurant than a tearoom, but has a wide selection of fine loose-leaf teas (their Earl Grey de Ceylan blend is particularly good) served in traditional Chinese teapots, which can be enjoyed by a log fire. For a little something to eat before your tea, quiches are their speciality. The chocolate fondant is just divine. 8 rue du Fouarre, 75005, Metro Cluny – La Sorbonne, 01 43 29 40 99, open daily. The price: A pot of tea will cost you a somewhat pricey €4.50 (it is, afterall, in the Latin Quarter).
Café Maure de la Mosquée de Paris
If you're in the Latin Quarter and looking for something a little less expensive and a lot more exotic, the Café Maure is totally different from most Parisian "salons de thé." It is a North-African tearoom set within the Mosquée de Paris – Paris's first Mosque, which was built in honour of the French-Arab soldiers who were killed in the First World War. Here you can enjoy "thé à la menthe" (sweet mint tea) and delicious traditional pastries in a laid-back setting, either in the leafy courtyard or in the indoor oriental-style tearoom. As pleasant as it is though to idle on the terrace drinking tea in the shade of the fig trees, your visit shouldn't end here. You can also enjoy the Turkish baths, which are very reasonably priced and open at set times depending on gender. There is also an on-site restaurant serving Middle-Eastern cuisine, and a small market where you can pick up some authentic traditional handicrafts.  39, rue Geoffrey Saint-Hilaire 75005 Paris, Metro Place Monge, http://www.la-mosquee.com/htmluk/entreeuk.htm, open daily. The Price: A cup of thé a la menthe costs a meagre €2.00, and pastries are also just €2.00 each.
Tea Corner
This delightful little tearoom is set on a quiet street, just a few steps from the busy Montorgeuil pedestrian market. It has a modern yet unpretentious atmosphere and offers free Wi-Fi. It is an ideal spot to linger on a wintery afternoon, with a choice of over 50 flavoured and pure "Palais des Thés" blends. Tea Corner takes the art of tea drinking seriously. Their flavoursome blends are served in special tea-infusing cups, accompanied by a sand timer, allowing you to get the perfect brew. They also offer the most authentic-tasting chai I've had in Paris, and their Muffins "au coeur de nutella" are simply delicious.  6, rue Mandar, 75002, Metro Sentier, http://www.teacorner.fr closed Mondays. The price: A mug of tea will cost you €3.50, or you can choose the tea plus cake/dessert option for €7.90.
Tea and Tattered Pages
Run by a lovely lady and her big orange cat, Tea and Tattered Pages is a warm and welcoming respite from the chaotic Parisian streets. It is a secondhand bookstore that incorporates a small country-style tearoom. It offers a variety of affordable teas and infusions (of the tea-bag variety here), and British-style snacks, such as carrot cake, scones and fruit crumbles. Nicely tucked away off the beaten Parisian track, it's an ideal place to quietly relax to some classical music with a tea and some home-made scones. With the nostalgic smell of old books, the cluttered bookshelves and the dainty floral tea cups, this unassuming homey charm sets this place apart from other Parisian tearooms. 24, rue de Mayet, 75006 Paris, Metro Falguiere, http://www.teaandtatteredpages.com, open daily The price: A pot of tea will cost you €3.20 and cakes and desserts are around €5.00.