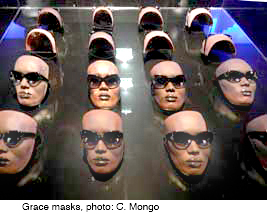 Often, the term "Pygmalion" is used to describe artist, Jean-Paul Goude and the intimate rapport he has with his muses. However, instead of sculpting object of desires out of stone, Goude transforms women with whom he cultivates a relationship into his living, breathing works of mythical art. Call it "Goudemalion," a term reflected in the Musee des Arts Decoratif's latest exhibition paying homage to the brilliant mind of image maker/art director, Jean-Paul Goude.
Best known for his vivacious Galeries Lafayette billboards and his relationship with pop icon, Grace Jones, Goude takes the visitor on a journey into his imagination with the help of croquis sketches, manipulated photographs, clever television commercials, costumes, illustrations, elements from a gargantuan parade and a wild and crazy cast of characters with the divine Grace Jones  center stage.
In fact, an entire room is devoted to work inspired by Jone's image, which includes a display case of life-like masks, paintings of an angular, androgynous, and grand physique of the singer as well as the video,  "One Man Show" also produced by Goude.  Grace also reappears throughout the exhibition as two mechanized heads used in the Citroen CX TV commercials, in a series of "reviewed and corrected" slide show in a space off to the side, and still in a larger than life "collage" entitled "Constructivist maternity dress" the far end of the central room.
But long before his association with Grace, Goude was already an established figure in the arts on both sides of the Atlantic. Born to a French father and American mother (a professional dancer), the" artist" came of age in the era dominated by Andy Warhol, Peter Max, and Antonio Lopez beginning with a series of photographs  Goude named, the "French Correction." After snapping his own pictures, images were then sliced and spread to attribute new proportions to his subjects then meticulously retouched to resemble a flawless photograph. In modern times, the end result appears  to have been "Photoshopped" but then you must consider these images were created 30 years before the software existed. "My images are, above everything, visual metaphors destined to tell stories," explained Goude in the book, "Goudemalion, Sa Vie, Ses Oeuvres." "In spite of the title which describes me, I considered myself an apprentice and took the time to experiment. " Parallel to his personal research, Goude's career began as an illustrator for  "Marie Claire" magazine, Dim, Printemps department store in Paris, then art director for Esquire magazine in New York in the 1970's.
In 1989 Goude was commissioned by Francois Mitterand's government to produce a parade marking the Bicentennial of the French Revolution.  With his outrageous imagination and poetic sense of humor, he transformed an otherwise austere military parade into a colorful mix of ethnicities and multicultural references. Remnants from the grandiouse pageant are appropriately placed in the center gallery, where visitors are greeted with a two-story tall, twirling dancer (fashioned after his North African muse, Farida) dressed in black.  Just behind, is the train, a larger-than-life, wooden replica of SNCF's "Pacific 231 steam locomotive used in the parade as well as the artist's croquis book created while planning the parade. Gracing the walls are reproductions of those sketches as well as portraits and photos of ethnic costumes and set designs.
Goudemalion employs a variety of media. There are photos from the "Jungle Fever" book, pages from sketch books placed everywhere, TV commercials Goude created for Chanel, Kodak, and Citroen.  Even Goude's famous Galeries Lafayette billboards are presented in a cool setting that makes it fun to watch. Several subway stations were filmed to show off the billboards then programmed to run simultaneously around an entire room of plasma monitors.  Visitors are virtually transported into the Paris metro with the sights and sounds of commuters admiring the art on the walls while trains whiz by.
The body of work on display here is most impressive. However, what will strike you most, is the depth and breadth of an imagination of a man who knows no boundaries.
Goudemalion: Jean-Paul Goude, Une Retrospective. Musee des Art Decorative. 107, rue de Rivoli 75001. Tel : 01.44.55.57.50.  //www.lesartsdecoratifs.fr Open Nov 11-March 18, 2012, Tues-Sun. 11h-18h (Thurs until 21h). Admission: 9 €