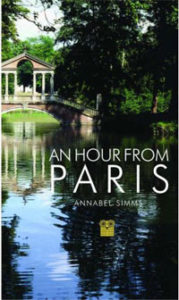 Is it possible to be tired of Paris? Bored with it? Amazingly, it is, and at such times one may long for a brief escape, a short trip into the countryside. To the rescue comes Annabel, a Briton long resident in Paris who has obviously felt the same uneasy stirrings, because she has compiled a very attractive assortment of little breakaways, none of which takes more than an hour to reach, and deftly compressed them into her small but very useful pocket-sized book.
She's assembled–and thoroughly researched twenty daytrips, and most of them are bound to surprise even veteran Paris habitues. There's a thrice-moated town to the east, a cathedral in an ex-chocolate factory, canalside walks, and an huddle of peaceful islands at the end of a Metro lines. (And at the end she also throws in Versailles, Giverny and the like, just for lagniappe.)
Simms knows the territory very well; she writes briskly and supplies history, background and local lore as well as specifics on finding the tourist offices, restaurants and museums at each stop. There are good photos and maps, too. Being British, she also includes numerous walking tours, and being a walker myself, I liked that best of all.  
 
All of these destinations are accessible by public transport, for which Simms gives excellent details. (All too often, a concierge or tourist office in Paris will reflexively urge you to rent a car.)
I stumbled upon this book while in Paris last month, and the daytrip I took was a hghlight of my visit. If you're planning to visit Paris, get this book before you go–you'll want to build at least one of Simms's recommendations into your itinerary.
–Bill Marsano is an award-winning American travel writer.
Order  An Hour From Paris