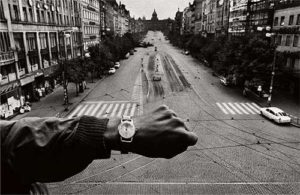 The Pompidou Center exhibits Josef Koudelka's classic "Exiles" series. We haven't seen his work in Paris since his big exhibition in 1988 at the Centre National du Photographie. Last year Koudelka donated to the Pompidou Center his entire "Exiles" series. The exhibition (free) includes these photos along with some interesting self-portraits taken by the photographer during his travels. 
About Exiles, Cornell Capa once wrote, "Koudelka's unsentimental, stark, brooding, intensely human imagery reflect his own spirit, the very essence of an exile who is at home wherever his wandering body finds haven in the night."
With more people now displaced than anytime since WWII the topic of exile is indeed a timely one. Exile is something Koudelka has experienced first hand. In 1970, not long after photographing the invasion of Prague by Soviet tanks, Josef Koudelka decided to leave his native Czechoslovakia. During the winter months he lived in first London, then Paris. The rest of the time he spent traveling Europe, reacting to whatever chance put in his path. During this period from the Seventies to the Eighties, he took the pictures in the "Exiles" series.
Josef Koudelka, "La Fabrique d'Exils," to May 22, 2017. Centre Georges Pompidou. Paris
Caption: Invasion, Prague, 1968 © Josef Koudelka