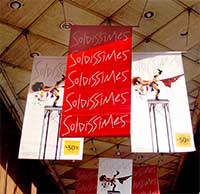 There's no better way to start a new season in the fashion capital than with a whole new look. True, Paris can be pricy, but during the two yearly sales, prices are slashed to invite some healthy indulgence of retail therapy. The summer sales (called soldes in French)  go to July 25.
Stores offer all sorts of enticements to shoppers, from gimmicky gift-bags to fifty percent reductions. While the particular dates and extent of participation are at the discretion of individual stores, there's something for everyone-as long as you can manage the madness of the crowd. Sale season in the capital is known for its bustling ambiance, which risks to tax nerves as much as pocketbooks. The combination of cranky store clerks, endless change room and check-out line-ups, and pushy buyers may prove enough to fluster even the most seasoned shopper. Try integrating the outing with some fun and relaxing activities within striking distance of the city's best shopping spots.
Rue de Rivoli has all of the basic favorites from H & M to Zara. A walk down this strip also affords access to Hotel de Ville, Notre Dame Cathedral, and the Louvre, in case the day calls for a little culture as well. A cruise down the river seine, which runs parallel to Rivoli, might relieve a little of the shopping frenzy. For another kind of experience, eat atop the Centre Pompidou where the view is a pleasant compliment to culinary offerings. After intermission, head to nearby Les Halles and the Chatelet shopping district area for round two.
The grands magazins of Boulevard Haussmann provide one-stop shopping where once-upon-a-time new money went to flaunt their fortunes. The larger department stores, the 18th century Galeries Lafayette and the slightly younger Printemps, carry a range of medium to high end brands under one roof. The area promises to be abuzz with sale fervour, a Galeries Lafayette representative warns that between 160 000 and 200 000 customers are expected on opening day. Come in the early morning to avoid the swarm is the advice they offer to mitigate stress.
Printemps also offers a range of luxuries to ease purchase pain, including car service, personal shoppers. But if all this is mere cold comfort from the storm, Paris' historic Opera Garnier is just around the corner; check performance listings for a matinee and put your new garments to good use at the sumptuously ornamented 19th century gem.
Find flagship versions of your favorites on the Champs-Elysées, along with designer names such as Louis Vuitton and Hugo Boss- but be advised, designers don't often offer sales on their haute couture collections.
Galeries Lafayettes, daily 9 30am to 7 30pm, Thurs until 9pm, closed Sun, 40, blvd Haussmann, 9th, Metro Chaussée d'Antin La Fayette, Tel: 01 42 82 34 56,  http://www.galerieslafayette.com
Printemps, daily 9 35am to 7pm, Thurs until 10pm, closed Sun, 64, blvd Haussmann, 9th, Metro Havre Caumartin, Tel: 01 42 82 57 87, http://departmentstoreparis.printemps.com/