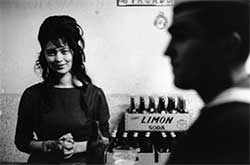 A  retrospective exhibition of work by the enigmatic Chilean photographer Sergio Larrain, curated by Agnès Sire,  was one of the highlights of last summer's Rencontres d'Arles photo festival. Now Parisians have an opportunity to see photos  by this remarkable but little-known photographer with an exhibition (Vagabondages) at the Fondation Henri Cartier-Bresson 
Agnés Sire, who for 20 years was desk editor for Magnum and is currently directrice of the HCB Fondation, corresponded with Larrain for thirty years. Although she never met him she estimates that there were hundreds of letters written between them. In addition to superbly printed photos the exhibition includes a copy of the new Larrain monograph (edited by Sire) containing several of these letters, drawings and handwritten texts on meditation revealing some of Larrain's extraordinary personality.
Sergio Larrain's (1931-2012) poetic black and white photos from the Magnum archives are remarkable not only for their singular vision but also for being pictures taken by someone deeply concerned with spirituality. He gave up a promising career in photography to devote himself to meditation, yoga, painting and teaching.  In 1968, he met Bolivian guru Óscar Ichazo and virtually gave up photography in order to pursue his study of Eastern culture and religion.
About photography he once said "A good image is created by a state of grace. Grace expresses itself when it has been freed from conventions, free like a child in his early discovery of the reality. The game is then to organize the rectangle." The exhibition includes pictures from his Valparaiso and London series as well as copies of his rare early books "El Rectángulo en la Mano" (Rectangle in Hand) and "Una Casa en la Arena" (A House in the Sand), about Pablo Neruda's house on Isla Negra.
"Vagabondages" to December 22, 2013, Fondation HCB, 2 impasse Lebouis Paris 75014
Photo caption: Larrain's 1963 photo Limón Soda, Valparaíso. Photograph: Sergio Larrain/Magnum