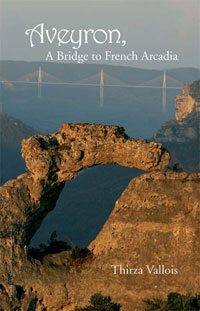 "It all began in Paris with a riot of wisteria." says Paris-based travel writer Thirza Vallois explaining how she became fascinated with this obscure region of France, mostly known for its Roquefort cheese. This led to a chance meeting between the author and two Aveyronnais Georges and Odette, visits to the region and Vallois' love affair with Aveyron and its enchanting landscapes tucked away on the southern edge of the Massif Central.
Until recently, this was France at its most quintessentially rural, sealed off from the rest of the country by rugged terrain, anchored firmly in its distinctive identity and traditions.
Aveyron is one of the original 83 departments created during the French Revolution.  It contains a part of the Cévennes National Park. Tourist attractions include the castle of Najac, a medieval ruin perched high on a hill, and the abbey of Loc-Dieu, located near Martiel. The small city of Millau is the site of the world's tallest bridge, the Millau viaduct. In 1999 the city got world attention when anti-globalist farmer Jose Bove ransacked a local McDonalds protesting US trade restrictons against local Roquefort cheese.
A Bridge to French Arcadia is the captivating story of a once destitute corner of France that is now recognized for its idyllic quality of life. More than a travel book to a unique and beautiful area, it is also a portrait gallery of the people of the Aveyron.  Vallois, with her impeccable research, not only takes the reader on a journey to a place, but we go with her back in time when the Knights Templar ruled and the early pilgrims set out on the road to Compostela.
Thirza Vallois is the author of the highly acclaimed "Around and About Paris" series and "Romantic Paris"  To buy books directly from the author: http://www.thirzavallois.com