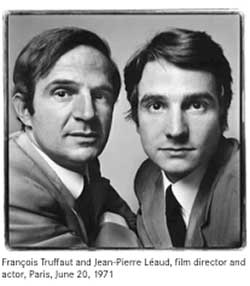 Richard Avedon's French connection is the focus of an exhibition at Paris' Bibliotheque-Mitterand (to February 26, 2017). From early fashion photos taken in Paris during the 40's and 50's to pictures taken in the 80's for magazines such as "Egoiste" to his last visits to his French photographer friend Lartique, the exhibition traces the American photographer's long creative relationship with France.
The exhibition at the BNF is designed around a spectacular gallery of portraits of "French faces" in large format, that Avedon captured throughout the course of almost half a century: Jean Cocteau, Coco Chanel, Catherine Deneuve, Jeanne Moreau, Yannick Noah, Isabelle Adjani, Yves Montand, Simone Signoret..
Avedon (1923-2004) was part of a wave of American Photographers who came to Paris after WWII to photograph European fashion collections. His pictures were taken when post-war France was striving to regain its cultural eminence. He  regularly photographed the designs of major Parisian couture houses through to 1984.  One of Avedon's iconic photos "Dovima with Elephants" (1955) taken in Paris featuring a Christian Dior dress may very well be one of the most famous fashion photographs of all time.
Avedon's France, Old World, New Look, to February 26, 2017, Bibliothèque Nationale de France – Site François Mitterrand, quai François Mauriac 75013 Paris
Photo caption: French film director Francois Truffaut and actor Jean-Pierre Leaud, 1970 © Richard Avedon