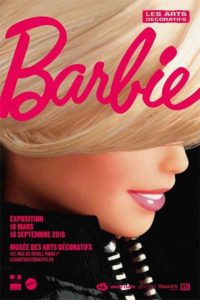 For the first time ever, a major French art museum has dedicated it's space to one of the most famous American icons of our times….Barbie!
Throughout 1500 square meters within the Musee des Arts Decoratifs, 700 dolls tell the story of Barbie and her impact on pop culture. By the nature of the subject matter, it is easy to forget this show is a cultural exhibition and not a toy store display.
While the public (many of whom are small children and doll collectors) are loving this event, critics argue this is nothing more than an enormous public relations coup for a company experiencing a drop in Barbie doll sales. The fact that Mattel underwrote part of the show has also fanned the flames of speculation. Nonetheless, the museum assumed total control over the scenography and as such, chose to place the doll within a sociological context which begins with a brief history of dolls.
Though initially created as toys for wealthy children in the 18th century, the first dolls were not created to mimic juvenile bodies, but rather those of adults. Even then, their physical form was not faithful to the human silhouette. It's chief purpose was to show off clothing. A small number of vintage French dolls with their wardrobes provide a glimpse of Barbie's ancestors.
Dolls also played a role in fashion history (thus pointing to the relevancy of this doll displayed in a space normally reserved for historical costume). Charles Worth, the founder of modern couture, used them to help promote his creations. Mme. Violent draped her toiles on them as an economical way of bringing her concepts alive. And during post war years, the Theatre de la Mode with its minuscule recreations of high fashions draped over the shoulders of wire framed figurines, served as a major communications vehicle to clients abroad.
After a brief introduction, visitors are quickly thrust into a tiny world where Barbie is dressed in contemporary garments specifically for this show, previously featured on Barbie's own Instagram account (@Barbiestyle). A trench coat with top stitching and pockets, an Hermes inspired handbag buckled shut….the attention to detail is mesmerizing. From there, the visitor is taken along a chronological path showing the doll's modest beginnings, the production process and then Barbie's numerous lifestyles, careers, friends, assets, wardrobe and artist friends.
Created in 1959 by Ruth and Elliot Handler, Barbie was inspired by a German doll, Lilli. This new doll with her generous busts and hourglass figure was not well received when it appeared at the New York Toy Fair in 1959. Mattel and other toy executives feared little girls would be put off by the mature silhouette of this new doll. But once they agreed to take a chance on this toy, the doll flew off the shelves and proved to be not only a top seller for Christmas, but also a leader in post holiday toy sales. By 1962, Handler, who planned to produce 20,000 dolls weekly, found herself tripling production to meet demands.
What differentiates Barbie from other dolls is that she evolves with the times, perhaps even influencing them. Yes, she is a fashion icon, but she has also assumed the role of a career girl at a time when women began making strikes within the work force. Her early professions were limited to activities normally reserved for women: secretary, nurse, stewardess, waitress, teacher. But as times evolved, so did Barbie. By her example, little girls could dare to dream. John Glenn went up in space in 1963–and so did Barbie, space suit and all. All 150 of Barbie's careers are presented under its own glass bell. She has been a police officer, deep sea diver, construction worker, race car driver, surgeon, CEO, a burger flipper at McDonalds and cabaret performer, just to name a few. Let's not forget that before there was a Hilary Clinton running for president…Barbie was there first! (She's been a candidate four times already!)
When women tossed their high heels in favor of active sports gear, so did Barbie. She plays tennis, jobs, rides horses, swims, dances and today's "Made to Move" Barbie practices yoga. Globalization has resulted in Barbie morphing into a rainbow of multiracial/multicultural looks, resembling the world around us.
First and foremost, Barbie is a fashion model. The museum went to great measures to illustrate this. A small "catwalk show" is populated with dolls wearing fashions created by major international designers. Some were lifted from commercial collaborations (Versace, Burberry, Lagerfeld, Christian Louboutin) while others are unique garments borrowed from private collections (Paco Rabanne, Christian Lacroix, St. Laurent, Gaultier).
Upstairs, the most amazing "photo boxes" from Mattel are on display. They are one-sixth scale dioramas representing couture ateliers populated with seamstress dolls on their power machines, designer dolls fitting models or worker Ken dolls arranging supplies. Next door, a doll strikes a pose in the photo studio under the glare of a tiny strobe light. The most spectacular set, however, is the Haute Couture presentation (the set could have been lifted from a Christian Dior salon) complete with patrons sitting on little gold chairs, contemplating the fashions models by the Barbies on the runway.
The exhibition also explores Barbie as a pop culture muse. She is transformed into an objet d'art in one of Andy Warhol's famous portrait lithographs, Chloe Ruchon's "Barbie Babyfoot," and Laurie Simmon's "How We See" series of photographs. In the final room, everything is brought to a climatic end with a wall covered with 7000 articles of Barbie clothing and accessories organized by color. To the adult it is a spectacular art installation. But to the children (both big and small) around me, it is a Lilliputian fashion extravaganza that provokes squeals of delight!
Barbie. To Sept 18, 2016, Musee des Ars Decoratifs. 107, rue de Rivoli. 75001 Paris. Open Tues-Sat 11am-6pm (Thursday till 9pm). Admission: 11 Euros.