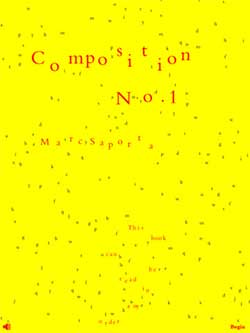 Visual Editions has republished or in their words "re-imagined" a classic by French novelist Marc Saporta (1923-2009).  The new edition includes an introduction by Tom Uglow and drawings by Salvador Plascencia.
Quite literally, Composition No. 1 is made up entirely of loose pages. Each page contains its own self- contained narrative and so it is left to the reader to shuffle through and decide which order to read them in, and how much or little they want to read before they begin again.
This format uses the interactive shuffling, and sliding we're so familiar with on our screens and brings it to a physical book. The book's publication was accompanied by the release of an App, allowing users to randomise the book, exploring and extending the reading experience on screen, uncovering the full potential of reading the book in a non-linear way on an Ipad.
Visual Editions approached Tom Uglow of Creative Labs Google and YouTube to write an introduction for the book. Within the introduction, he says:  "This is a work that confounds the convention of literature. Composition No. 1 was the first book to demand active participation, or what we might call today, interactive. There is nothing as disconcerting as the sensation of holding a loose sheaf of papers, with no numbers, no chapters, with a hundred and fifty beginnings and a hundred and forty nine endings."
He continues: "The physical edition of Composition No. 1 is an object to be held, owned and loved. The digital edition is to be read, pushed, shared, discarded and reinvented."
Marc Saporta  was a French novelist, essayist and literary critic. – He is the author of five acclaimed novels: Le Furet (1959), La Distribution (1961), La Quete (1961), Composition No. 1 (1962) and Les Invites (1964). – He also translated writings by Ernest Hemingway, Jack Kerouac and Martin Luther King.
Composition No. 1 is the third title for Visual Editions, an independent publisher of literary fiction and non-fiction which makes use of what they term 'visual writing'. Founders Anna Gerber and Britt Iversen believe books should be as visually compelling as the stories they tell, and their aim is to publish great looking stories.