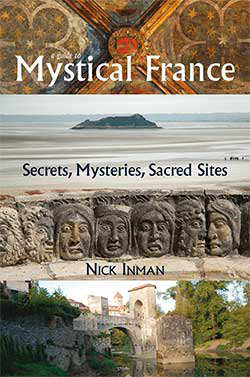 "A Guide to Mystical France, " is a magical mystery tour of the sacred sites of France from prehistoric cave paintings to majestic Gothic cathedrals to the secrets of the Knights Templar. This well-researched thoughtful book, written by British-born writer-photographer Nick Inman (who now lives in southwest France) is for people who have probably already seen the Mona Lisa and Eiffel Tower and want to have a deeper, more meaningful experience of France.
Inman has been traveling around France writing guide books for the last 15 years for major publishers. What makes this guide book special is that it reflects his personal interest in unknown, eccentric out-of-the way places and in the stories of the curious, esoteric and inexplicable. He is the author, coauthor, and editor of more than 30 books, including "Eyewitness Spain," "The Optimist's Handbook," and the "Road Less Traveled: Amazing Places Off the Tourist Trail" and "Who on earth are you? : a field guide to identifying and knowing yourself."
Setting the tone for his book Inman describes what he considers a mystical place. "It enables me to get out of myself, out of time and away from "here" it puts me in the presence of the sacred, wondrous and unintelligible. It encourages me to disengage my rational, logical mind and inhabit the expansive, higher me… it also allows me to feel more myself, more awake, aware and alive than normally… it allows me to feel connected to everyone and everything else, and to see my self in context…."
France is one of the most-vistied countries and yet full of secrets that most visitors don't know about. The first part of the book looks at mystical France thematically through chapters on such themes as pilgrimage routes, cave painting, megalithic monuments, Romanesque and Gothic churches, the Cathars, alchemy and the survival of mysticism in the modern world. Interspersed with these chapters are a a number of vignettes examining specific topics such as labyrinths, legends, sacred geometry and monasteries. The book concludes with a travel guide detailing a selection of interesting mystical sights in France to visit along with practical advice and websites for more information.
"A Guide to Mystical France: Secrets, Mysteries, Sacred Sites" by Nick Inman,  Buy the book here: //www.findhornpress.com/a-guide-to-mystical-france