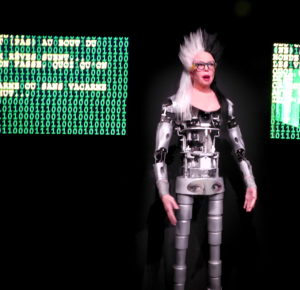 Art meets technology with "Artistes & Robots" at the Grand Palais (until July 9). The exhibition, featuring mostly European artists, opens with Jean Tinguely's mid-1950s "Metamatics" (machines that make paintings). Among the techno pioneers the exhibition includes Nam June Paik's iconic pseudo robot, "Olympe de Gougs," an assembly of 12 wooden television sets, 12 color monitors and a laser videodisc player. It was commissioned by Paris for the bicentenary of the French Revolution in 1989.
The exhibition considers the technological tools used by contemporary creators from Iannnis Xenakis' early computer music to Peter Kogler's digitally designed floor to ceiling collaidiscopic environment. "Portrait on the Fly," an interactive installation by media artists Christa Sommerer and Laurent Mignonneau —consisting of a monitor depicting a swarm of digital flies— creates visitor portraits. Stepping in front of the monitor attracts the flies, but with the slightest movement they buzz off creating a continual construction-destruction process. For the artists the installation is a commentary on our "selfie-culture…"
The exhibition crescendos with provocative French performance artist ORLAN's video-robot installation "ORLAN et ORLANOIDE, strip-tease electronique et verbal." ORLAN is best known for her "plastic-surgery" body art projects of the early 1990s where she transformed her body surgically not for beauty but as a kind of art performance. At the Grand Palais she reinvents her body yet again as her clone-like robot dialogues with a projected pre-recorded video ORLAN.
Artistes & Robots, to July 9, 2018, Grand Palais