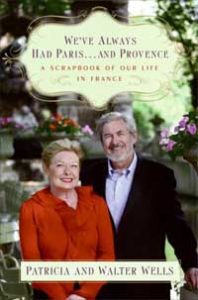 Patricia Wells, long recognized as the leading American authority on French food, and her husband, Walter (former senior editor of the International Herald Tribune), live the life in France that many people have often fantasized about. Now the couple has put together a sort of "scrapbook" of their memories co-writting a new book "We've Always Had Paris… and Provence." (Harper Collins)
After more than a quarter century, they are as close to being accepted as "French" as any non-natives can be. In this delightful memoir they share in two voices their experiences-the good, the bad, and the funny-offering a charming and evocative account of their beloved home and some of the wonderful people they have met along the way. Full of the flavor and color of the couple's adopted country, this tandem memoir reflects on the life that France has made possible for them and explores how living abroad has shaped their relationship.
Written in lyrical, sensuous prose and filled with anecdotes, insights, and endearing snapshots of Walter and Patricia over the years, We've Always Had Paris . . . and Provence beautifully conveys the nuances of the French and their culture as only a practiced observer can. Literally a moveable feast to be savored and shared, including more than thirty recipes that will delight readers and cooks alike, the couple's valentine to France and to each other is delicious in every way.