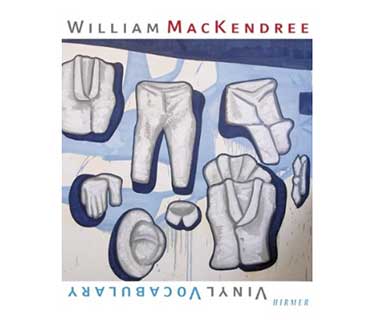 "Vinyl Vocabulary" is an exhibition of paintings celebrating the release of a new monograph with that title by William  MacKendree at the Vidal- Saintt Phalle Gallery in Paris (May 15-June 5, 2012).
Exhibited across the United States, France, Morocco, and Greece since the late 1980s, William MacKendree's paintings have been purchased by prominent institutions, including the Neue Galerie and Paris's iconic Centre Pompidou. Influenced by recent postmodernists as well as such disparate twentieth-century painters as Edward Hopper and Philip Guston, MacKendree's earliest works are marked by the juxtaposition of powerful linear configurations against vast expanses of canvas. From these early linear creations, MacKendree worked toward the development of a vocabulary of signs, which is evident in his later art featuring motifs from the urban environment and natural world.
This new monograph, a comprehensive survey of his work during the last two decades, presents the varied images and pictorial shifts of abstract fundamentals, reflecting the artist's  desire to render the painting as a psychologically resonant object through gesture and the material properties of the painting process.
"Vinyl Vocabulary" William  MacKendree, May 15-June 5, 2012 Galerie Vidal-Saint Phalle, 10, rue du Trésor, 75004 Paris