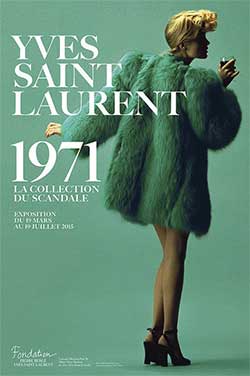 Last week, while having a drink with a friend at an outdoor cafe, we were commenting on how horrible the people on the street were dressed. "Everybody dresses like rats," I said with disdain. "True. There is a lack of elegance and style on the street," my friend added. With that, we headed a few blocks over to see some "real" fashion at the exhibition, "Yves Saint Laurent: 1971."
Dubbed the scandal collection, YSL's Spring/Summer 1971 Haute Couture was the worst received of all times. It drew negative comments from the international press like, "Nauseating," from Britain's Daily Guardian. "A tour de force of bad taste," "women at their worst," proclaimed Paris-Jour magazine. "St. Laurent-an insult to fashion," wrote a paper in Las Vegas. Even Eugenia Sheppard. then fashion editor for the New York Post, chimed in with a comment, "The Ugliest Show in Town!" The media hated it. Local personalities were offended by it. But far across the ocean, an entire generation of fashionistas fell head over heels in love with it.
Completely inspired by clothes from the war torn 1940's, blouses and dresses had sweetheart necklines, puffy sleeves, peplums and flared skirts. Everything was accessorized with turbans, rhinestone studded bracelets and wedge heeled shoes with ankle straps. And then there was the makeup…deep plum kissed mouths and tri-toned eyeshadows. It was a tarted up look, the critics deemed originated from the "wrong" side of Paris.
Thirty years prior, France had been an occupied nation in the midst of a difficult world war with its textile rationing and poor quality clothes. An era, many insisted was best left forgotten. St. Laurent, however, felt that with all the political, social and sexual changes brought about in the 1970's, it was time for street style to make a profound statement in fashion.
As a young fashion student living ocean away, I was neither aware nor did I care about any of the controversy. I saw a style of fashion I had not seen. It intrigued me enough to copy everything I could not afford to buy. The short bolero fur jacket was renamed "chubby" in the 1970's and all the rage on the Streets of New York. YSL's tuxedo suit was recut into pinstripe "gangster" pantsuits. (I made one to wear at graduation.) And along with many other style mongers, I chopped off my hair and curled it a la 1940's then redrew my face with plucked eyebrows, sunset colored eyeshadows and raisin toned lipstick. (Come to the Cabaret….)
This exhibition is on until July 19 at the Fondation Pierre Berge/Yves Saint Laurent which is housed in a small but elegant venue, the site of the late designer's Couture house. The story of this collection is told through 84 items, some featured on mannequins and set against a backdrop of larger than life sized croquis, others represented by St. Laurent's original sketches, photographs, videos of that infamous 1971 press presentation.
From the impeccably blazers with super wide collars and cuffed trousers, to an evening gown cut from a luxurious silk version of army camouflage, everything is incredibly well crafted, elegant and tasteful. Looking back, one wonders what the big deal was about especially when compared to today's aesthetics.
But then when I thought about this collection and how it impacted my own wardrobe, I had to laugh thinking how the generation before me must have scoured as I pranced down the street with my puffed sleeves and peplums, my turban wrapped head and fake monkey chubby.
Yves Saint Laurent:1971 La Collection du Scandale. Fondation Pierre Berge/Saint Laurent. 3, rue Leonce Reynaud. Paris 16. Metro: Alma. Open Tues-Sun 11:00-18:00 until July 19, 2015. Entry 7 Euros.