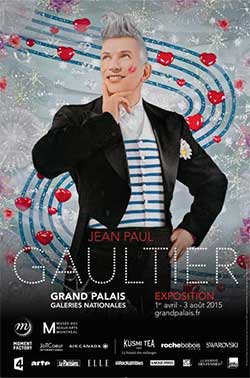 After showcasing the works of France's "bad boy" of fashion in nine other cities around the world, the much anticipated "Gaultier" exhibition has finally landed in Paris. For this tenth edition, installations were specifically designed for its newest venue, Le Grand Palais, and clips from French cinema and early TV personal designer were added. Moreover, about a third of the garments were replaced with others from his most recent couture collections, all in an effort to keep the show fresh and revelent.
While the clothes on display are wild and wonderful with splendidly decadent construction and detail, the staging of this event is equally creative and spellbinding. Gaultier's outrageous, over-the-top story is told through a display of 175 haute couture and ready-to-wear ensembles as well as accessories, photos, drawings and video clips from his catwalk shows, collaborations with filmmakers, dancers, pop stars and concerts. All in all, there are 336 items to completely thrust the visitor into the mesmerizing  world of France's pop culture couture king.  But what really sets this exhibition apart is the staging complete with interactive, talking, singing, eye-rolling, flirtatious mannequins.
While the mannequins were designed by Jolicoeur and coiffed by Odile Gilbert, it was Denis Marleau and Stephanie Jasmin of UBU/Compagnie de Creation from Montreal who brought them to life with super realistic, animated faces projected onto the heads. A dozen celebrities, including Gaultier himself, lent their image and sometimes their voices to be projected onto the faces of the mannequins. In fact, the designer's chatty clone stands amongst the others, welcoming visitors and sharing his vision of fashion. As you move about the exhibition, they roll their eyes, yawn and even make comments to each other. At times, they catch a glance of you and toss out a comment. The experience is so surreal it will have you winking or answering back! It is, by far, the most innovative fashion exhibition ever to be staged. This explains why the designer, who for years was reluctant to participate in any retrospective of his work, succumbed to this project first initiated, designed and launched by the Montreal Museum of Fine Arts in Canada.
Jean Paul Gaultier remains one of the most prolific fashion designers of modern times. As a child, he was inspired by his grandmother's beauty salon, films, show girl costumes and the Paris Haute Couture as seen throughout the glossy pages of fashion magazines. On his 18th birthday, he landed a job as assistant for Pierre Cardin.  However, London's "Mod" movement eclipsed Paris and a fascniated Gaultier found himself enthralled by the social and cultural revolution taking place throughout Europe. At the encouragement from his life partner, Francis Menuge in 1976, Gaultier dared to launch his own label. He produced eclectic catwalk shows using a cast of circus like characters (instead of professional models) which immediately addressed the concerns of an ever changing multicultural society, while shaking up established sociological and aesthetic codes. He mixed cultures and genders, creating a new androgynous figure or humorously delighting in inverting the codes of super sexualized fashion.
"Gaultier," the exhibition, celebrates the designer's unbridled inventiveness as well as his limitless sources of inspiration employed in a thematic approach, all of which is spread over eight rooms.  "Introduction," "Falbalas" shows many of his early inspirations and designs, set against a backdrop of furniture pushing away from the walls against sheets of stretch fabric (designed by Jurgen Bey, Studio Makkin & Bey). Rounding out this them are photos and film clips of friends, family and collaborators.
"The Odyssey" reveals Gaultier's signature looks, reoccurring themes that permeate his work like the sailor striped jerseys for which he is known. "Punk Cancan" illustrates the contrasting styles and themes Gaultier has blended together throughout his career: French classicism and elegance from his own background married with London's mix of tailoring and radical punk. In the center of this room is "Les Parisiennes fashion show—dressed mannequins revolving around a turntable catwalk against the sultry voice of Catherine Deneuve commentating. Seated in the "front row" are personalities, iconic figures recognizable by an outstanding feature which includes Suzy Menkes (IHT), Anna Wintour (Vogue), Grace Jones, and even Conchita Wurst. For "Les Muses," we see photos of his favorite models like Tenal, Even Salvail who shaved her head, or even Teri Toye, first transgender supermodel of the 1980's. Waiting for you in the alcove on the stairwell…. Madonna's dressing room with the pop star clad in a corset of steel.
"The Salon" reveals the designer's fascination and transformation of lingerie and features the best of his iconic garment, the corset. An article of clothing he often saw on his grandmother and mother, Gaultier transformed it into an outerwear accessory. "Skin Deep" explores the concepts of gender, nudity and eroticism. In Gaultier's hands, clothing becomes a second skin. Trompe l'oeil effects are used to give the illusion of nudity, a flayed human body or tattoos.
"Metropolis" represents a meeting point between the world of fashion and that of entertainment. Here we see the designer's various collaborations with performers. Closing the show is "Urban Jungle," Gaultier's multicultural melting pot of various cultures, ethnicities, geographic boundaries, religious beliefs and language barriers. He weaves the folkloric costume of the Mongolians, Hussars, Hasidic Jews, Peruvians and the Chinese along with that of artists like Frieda Kahlo. The dizzing kaleidoscope of patterns, beads, embroidery and intricate construction here, defines Gaultier as a master Haute Couturier that he has become over the years.
For the visitor, it is real treat to see each garment up close and personal. This is a rich and exciting, must-see exhibition that really shows Paris high fashion at its best within the modern context of art.
"Gaultier." Grand Palais, Galeries Nationale. Door: Clemenceau. Metro: Champs Elysee-Clemenceau Open Wednesday-Saturday: 10h-22h. Sunday-Monday: 10-20h. Closed Tuesday. Entry: 13 Euros. Note: The lines tend to be hours long, so it's best to reserve online: http://www.grandpalais.fr