I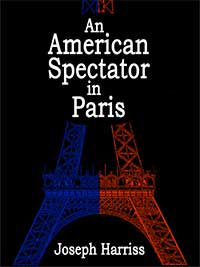 ncisive, articulate and timely reading —this is one of the best books on France to come along in years. While most books about France tend to deal with such topics as how to seat your dinner guests à la francaise or insider tips on correct manners for French kissing, this one strikes a bulls eye for what really makes the country tick.
"An American Spectator in Paris," by journalist Joseph Harriss, is a collection of his work from "The American Spectator Magazine."  The book— published this fall— includes penetrating analysis of the EU economy and political structure informing the Euro crisis currently dominating world news.
In his third book on France, veteran international journalist Joseph Harriss cautions that it is probably not the country you expect. Says Harriss "The aim of this collection, written between 2004 and 2012, is to help dispel some myths… and to shine light on many aspects of the reality of France today. The subjects range from  politics during the Nicolas Sarkozy era—a time dominated by gathering social and economic change, with the due attention to frivolities."  Harriss portrays France as a rapidly evolving complex nation paying special attention to the effects of what 70 years of Socialism has done to it?
Are French culture and cuisine still the gold standard? He ranges from politics—why the French were so disgusted with Nicolas Sarkozy—to wrenching socio-economic change, from the large sway of French women to the influence of 'les intellectuels.' The result is a thought-provoking assessment of France today, and its relationship to the rest of Europe and the world.
A career American foreign correspondent, Joseph Harriss studied French and international relations at the Sorbonne and the Institut d'Études Politiques before joining the Paris bureau of TIME. Besides covering French affairs from politics and economics to couture and cuisine, he also reported from Algiers and Brussels.
American Spectator in Paris:  //www.unlimitedpublishing.com/amspec/
U.S. readers may reserve copies by sending $17.99 by post to Unlimited Publishing LLC, Box 99, Nashville, IN 47448. For faster service,  visit Paypal.com and use ops@unlimitedpublishing.com as the payment address with a major credit card.  Free shipping is included for reservations placed before publication.