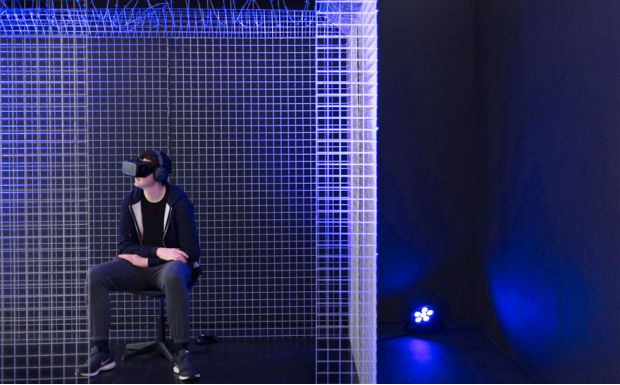 New Media Artist Elaine Hoey's "Surface Tension" is a virtual-reality interactive art installation currentlyinstalled at Paris' Irish Cultural Center (until February 22, 2019). As political tensions rise across Europe, this exhibition examines responses to the current migrant "crisis". While most countries have seen a moral imperative to help others in need, there has also been a sharp rise in support for ultra-nationalist narratives. Empathy, justice and solidarity are themes that new-media artist Elaine Hoey explores through virtual reality and video. Nostalgia for the nation-state and alt-right ideologies are also challenged, with the viewer finding themselves in a fascinating world where technology intersects with politics. Irish Cultural Center, 5, rue des Irlandais, 75005 Paris.
Ann Mah talks about her new novel "The Lost Vintage" in a conversation with Christian Holthausen (February 19, 7:30PM, 2019) at the American Library in Paris. In 2015, food and travel writer Ann Mah visited the Champagne house, AR Lenoble, and volunteered at les vendanges, the annual grape harvest. Her experiences at this independent, family-owned vineyard inspired her new novel.  The Lost Vintage is a tale about an ancestral vineyard, a lost diary, an unknown relative, and a family secret kept since World War II. Ann will be in conversation with Christian Holthausen – AR Lenoble's export sales and international communications director – to discuss her new novel, the legacy and future of winemaking in France, and AR Lenoble's pioneering efforts in the face of climate change. Ann Mah is the author of several books, including "Mastering the Art of French Eating," and "Instantly French." She contributes regularly to the New York Times Travel section. American Library in Paris, 10, rue General Camou, Paris 75007.
Lenore Raphael, who jazz critics have compared to Oscar Peterson, Bill Evans and even Thelonious Monk, will be in town playing her brand of modern swinging jazz (April 10 & 11) at the Cercle Suedois and Chez Papa Jazz Club. JazzReview described her as "One of the top new talents in mainstream jazz. A bright pianist with roots in the post-bop era." And "Creative Music Works" said "Simply wonderful playing! Raphael is a marvelous interpreter of Monk… but she goes a step beyond to make it fresh and her own." She performs at the Cercle Suedois with saxophonist Ray Blue and bassist Hilliard Greene (Wednesday, April 10, 7:45PM, 2019) located at 242, rue de Rivoli and at Chez Papa Jazz Club with bassist Hilliard Greene (Thursday, April 11, 8:30PM, 2019) located at 3, rue Benoit.
New Mexico based painter John Phillip Abbot exhibits his Zen word paintings at the Gleichapel Marais art space (February 9 to March 24, 2019). Abbott— known for his abstract color geometries and word paintings— explores the formal and pictorial properties suggested by such words as "Buddy Holly" "Fortuna" "Cosmos" "White Pontiac" and "On Any Sunday." About the "Zen" series, Abbott says they were never meant as a Buddhist principle… nor as a meditation device. For the artist the words in his paintings come from memories and personal experiences. John Phillip Abbott, "The Zen Paintings" (February 9-March 24, 2019) at Gleichapel, 15, rue Debelleyme, Paris, 75003. On view daily from 14H to midnight.
Marilyn Hacker on "Blazons" (April 11, 2019, 7:00 pm). An evening of poetry with Marilyn Hacker, reading from Blazons, collecting a quarter century's work by one of the most elegant and pertinent poets working in English. Marilyn Hacker brings together material from eight books, including a generous excerpt from the erotic verse novel Love, Death and the Changing of the Seasons, and new work written in a vertiginously changing political world. Hacker writes narrative poems, lyrics and elegies; she is witty, angry, traditional, experimental. Her poetry is in open dialogue with its sources, which include Donne, Akhmatova, Muriel Rukeyser, Joseph Roth, and the Algerian Kateb Yacine. In the past decade, this exchange has been informed by Hacker's celebrated translations of contemporary French poets, and a selection of this work is included alongside her own poems. Her poetry has been celebrated for its keen observation of her two cities, New York and Paris, its fusion of precise form and demotic language, its music, its memory, and its stubborn delectation of life. Shakespeare and Company, 37, rue de la Bucherie, 75005 Paris.
Josh Cohen on Not Working (June 6, 2019, 7PM). An evening with the Josh Cohen, discussing his brilliant "Not Working: Why We Have to Stop,"a book about how inactivity works – and how it can be a necessary and creative condition for a life worth living. Inactivity can induce lethargy and ennui, but is also a condition of imaginative freedom and creativity. Psychoanalyst Josh Cohen explores four faces of inertia: the burnout, the slob, the daydreamer and the slacker, typified by portraits of Andy Warhol, Orson Welles, Emily Dickinson and David Foster Wallace, who all achieved major cultural success through their indifference, withdrawal or slothful indulgence. Drawing on personal experience as well as real-life case studies from his consulting room, Cohen gets to the heart of the apathy so many of us feel when faced with the demands of contemporary life, and asks how we might live a different, more fulfilled existence. Shakespeare and Company, 37, rue de la Bucherie, 75005 Paris