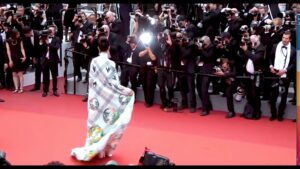 The Festival de Cannes will soon be reported  (May 16-27, 2023) by 4000 international journalists from around the planet.  Among them is reporter Ruby Boukabou who is teaming up with Louise Prichard (of Loulabelle FrancoFiles podcast) to take you behind the scenes of the renowned film festival with stories, reels, interviews, news updates and more.
The Cannes festival began in 1939 as a rejection of the Nazi and Fascist run Venice Mostra. Honorary president was Louis Lumière, the grandfather of cinema. However the festival was canceled due to Hitler's invasion of Poland, and only one film was privately screened, "The Hunchback of Notre Dame." The festival relaunched in 1946 with an aim to celebrate cinema, but also to bring back tourists to the French Riviera post war. It worked and the 1950's saw an influx of stars swanning around the "croisette" including Cary Grant, Brigitte Bardot, Kirk Douglas, Grace Kelly, Sofia Loren and even Pablo Picasso. 
The 2023 festival opens May16 with the out of competition romance/ bio drama 'Jeanne du Barry' by French filmmaker and actress Maïwenn, starring herself and Johnny Depp, who takes on the role of Louis XV (in French) to much anticipation.
Films in competition include new works from some of Cannes' renowned directors including Win Wenders, Wes Anderson, Ken Loach, Jessica Hausner, Alice Rohrwacher, Justine Triet, Karim Aïnouz, Todd Haynes and Nanni Moretti. Head of the jury is Swedish director Ruben Östlund, who took the Palm d'Or in 2022 for "Triangle of Sadness."
Actors starring in the films  expected on the red carpet include Juliette Binoche, Robert de Niro, Leonardo de Caprio, Margot Robbie, Mia Wasikowska, Scarlett Johanson and Harrison Ford. "The Dial of Destiny" will premier as well as the new feature by Martin Scorsese. "Killers of the Flower Moon" (starring DiCaprio and De Niro).
Join Ruby and Loulabelle on and off their Cannes Couch for updates, interviews and behind the scene antics.
www.youtube.com/@thecannescouch and on www.instagram.com/rubytv
Oh and for any tap dance fans, Ruby will be performing a special tap to celebrate international tap dance day on 25th May so watch out for that!  Bon festival!