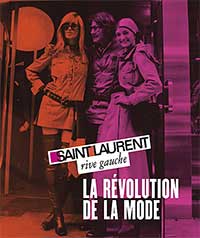 Just in case you missed the critically acclaimed retrospective exhibition of Yves Saint Laurent's career last year, you still have a chance to catch part of the master couturier's work at the Fondation Pierre Bergé-Yves Saint Laurent situated in the 16th arrondisement in the same building that once housed his Haute Couture operations. On through July 17, 2011.
In this, the Foundation's 15th exhibition to date, curator Pierre Bergé, along with the late couturier's former right hand assistant who served as art director on this project and Dominique Deroche, former press attaché turned advisor, highlights St. Laurent's contribution to France's prêt-a-porter industry of the 1960's.
Within a setting designed by Christian Martin reminiscent of YSL's first Rive Gauche boutique, inaugurated in September 1966 on the rue de Tournon, 70 of the late couturier's newsworthy looks are on display. From the safari jacket to the little black dress, each article of clothing, revolutionary for that era are timeless classics that could easily walk out of the museum and into the wardrobes of contemporary fashionistas today. The museum is small; however, it affords visitors an intimate view of the exquisite workmanship that went into producing each garment. Documentation provided by Ms. De la Falaise, transports viewers back 50 years to simpler times and places the garments in the context of life in the 1960's and the impact they had on moving fashion away from couture and towards off the rack clothes for the modern era of style.
For those who attended last year's show at the Petit Palais, there won't be any new surprises. You've seen all of these iconic items before. However, these clothes are like old friends. One never tires of seeing them over and over again.
SAINT LAURENT RIVE GAUCHE: LA REVOLUTION DE LA MODE Fondation Pierre Berge-Yves Saint Laurent. 5 ave. Marceau. Tel: 01 44.31.64.31. Open Tues-Sat 11-18h. Thursdays until 21h, on now through July 17. Admission: 7 Euros