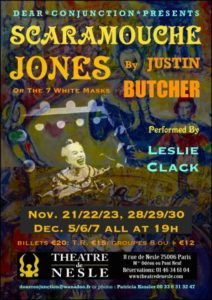 Paris' English-speaking theater company Dear Conjunction is back this season with Justin Butcher's play "Scaramouche Jones," performed by Leslie Clack and directed by Patricia Kessler, at the Theatre Nesle (Nov21 to Dec 7, 2019).
It's 11pm, 1999 on Millennium Eve. An old clown, Scaramouche Jones, has given his last performance and waits in his dressing room for the stroke of midnight – and his own centenary. 
Reflecting on the fortunes of his life starting from the seamy side of 1900's Port au Prince, Trinidad – where he is born to a Gypsy prostitute mother and abandoned by his English father- his tale is a journey spanning the dramas of the 20th century. The play premiered at the Dublin Theater Festival in 2001.
Dear Conjunction Theatre Company has been bringing Parisian audiences the best in bilingual theater since 1991. During that time they have produced over 40 plays in Paris from Harold Pinter to Mike Leigh to Yasmina Reza.
Theatre Nesle, 8, rue de Nesle, 75006 Paris. Info: http://www.theatredenesle.com