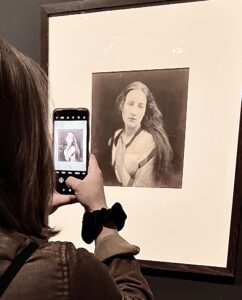 "Capturer la beauté" (Arresting Beauty), the Julia Margaret Cameron exhibit at Paris' Jeu de Paume, revisits the photography of one of the most important portraitists of the 19th century. Known for her soft-focus closeups of famous Victorians, sensitive portraits of women and children and poetic photo allegories, Cameron ranks among the most important photographers of the 19th century. After establishing herself among London's cultural elite, Cameron formed her own salon frequented by distinguished Victorians at the seaside village of Freshwater, Isle of Wight. Her timeless and original body of work, created within just over a decade (between 1864 and 1875), is a major milestone marking the beginnings of photography (to January 28, 2024).
Cameron started taking pictures, using the collodion wet plate process (one of the earliest photography techniques), only two decades after the medium was invented. Her success as a woman photographer –in a 19th century "man's world" – cleared the way for successive generations of women photographers. And her idea of "arresting beauty" with a camera put her among the van guard of those suggesting that a camera was more than a copy instrument, but a tool capable of creating real art.
Only a year after Cameron received a camera as a gift from her daughter, the South Kensington Museum (in June 1865) purchased 63 of her photographs. It was the first (in November 1865) and only museum to exhibit her work during her lifetime. And in 1868, Cameron was given the use of two rooms at the Museum as a portrait studio. The South Kensington Museum changed its name to Victoria and Albert Museum in 1899. It now boosts 900 Cameron prints.
The current Cameron show at the Jeu de Paume — produced by the Victoria and Albert Museum—consists primarily of works by the artist coming from its collections. The Paris exhibition is a real opportunity for Cameron fans because it also features exceptional loans from the Bibliothèque nationale de France, the Musée d'Orsay and the Maison Victor Hugo. Wow.
"Julia Margaret Cameron. Capturer la beauté" to January 28, 2024. Jeu de Paume, Paris