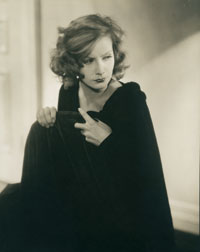 A major retrospective of Edward Steichen's photography at Paris' Jeu de Paume is a chance to see one of the most prolific and influential photographers of the 20th century. Surprisingly this is the first time such a large collection of his work has been shown in Europe.
Born in Luxembourg, Steichen (1879-1973) co-founded the Photo Secession group with Alfred Stieglitz. Although he first received attention as a romantic pictorialist he quickly changed to his signature modernist style. His photography ranged from portraits to nudes to fashion to editorial illustration. Steichen in the twenties was one of the top photographers for Vogue and Vanity Fair.  He was the director of the photography department at MoMA, where he organized the historic "Family of Man" exhibition, which is considered by many as one of the most influential photography exhibitions of all times.
Steichen's career had its share of controversy. Stieglitz was reportedly shocked at Steichens embrace of glamour and fashion while his pictoirialist friends felt betrayed by his abrupt change in style. Some critics saw the "Family of Man" exhibition as pandering to sentimentalism.  A newer view sees him as a kind of "renaissance" photographer able to effectively span the aesthetics of both commercial and fine art.
This exhibition is the first major European retrospective of his work. Thanks to loans form both American and European collections bringing together 400 vintage prints it will be a unique opportunity to revisit one America's major photographers.
Photo caption: Greta Garbo, 1928, Courtesy LaSalle Bank Photography Collection. Lasalle Bank and ABN, AMRO Chicago, copyright 1928, Conde Nast Publication